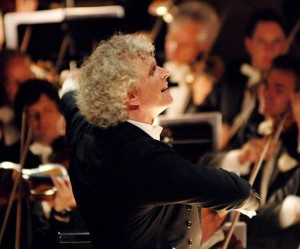 Sir Simon Rattle
Photo: © Monika Rittershaus / Pressestelle der Stiftung Berliner Philharmoniker / 2009070810025831. Licensed under CC BY-SA 3.0 via Wikimedia Commons
Congratulations to Sir Simon Rattle, who has been awarded the Sibelius Medal of the Sibelius Society of Finland.
The medal was presented by the Finnish Ambassador to Germany before a concert in the Berlin Philharmonie in which Sir Simon Rattle was conducting the Berlin Philharmonic orchestra in Sibelius's Symphonies Nos 5, 6 and 7.
Rattle and the Berlin Philharmonic Orchestra will visit London in February 2015 to perform all seven Sibelius symphonies.
An extended interview featuring Sir Simon Rattle in conversation with the Finnish author and journalist Vesa Sirén can be viewed at the Helsingin Sanomat website: click here.