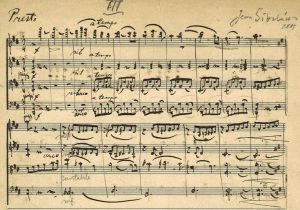 Page 1 of the Scherzo from Op. 4, from the Sibelius collection of the National Library of Finland (HUL 0552)
The next release in the JSW Critical Edition is now imminent, and includes all the works by Sibelius for string orchestra. JSW is published by the National Library of Finland, the Sibelius Society of Finland and the publishing house Breitkopf & Härtel (Wiesbaden).
Jean Sibelius wrote eight works for string orchestra over a wide time span stretching from the early 1890s until 1939. Many of these are either arrangements of earlier compositions or were composed in conjunction with a piano version. In addition to strings, additional instruments are used in some pieces (timpani, triangle, flutes, harp).
This new volume contains three first publications: two versions of the Impromptus and the early version of Rakastava. During the editing process, some previously unknown source materials have  come to light. These include the score and parts from Andante festivo's first performance (1939) in the YLE archive as well as another contemporary score with parts in the archive of Ylioppilaskunnan Soittajat. These new sources have significantly expanded the understanding of this work.
Edited by Pekka Helasvuo and Tuija Wicklund
Contents:
1. Scherzo (Presto – from Op. 4)
2. Impromptu, Op. 5 No. 5
3. Impromptu, Op. 5 Nos 5–6 (early version)
4. Impromptu, Op. 5 Nos 5–6 (revised version)
5. Rakastava, Op. 14 (early version)
6. Rakastava, Op. 14 (revised version)
7. Romance in C, Op. 42
8. Suite mignonne, Op. 98a
9. Suite champêtre, Op. 98b
10. Suite caractéristique, Op. 100
11. Andante festivo, JS 34b
Save
Save
Save
Save