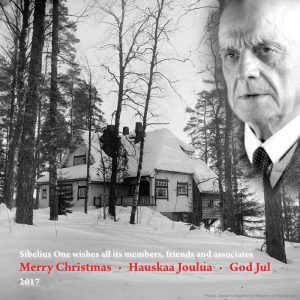 Best wishes for a very happy Christmas and prosperous new year from Sibelius One!
We hope that you'll be able to join us for the 2018 Sibelius Festival in Lahti. Dates and programmes have now been announced, and it'll be an exciting event including a visit from Neeme Järvi and the Estonian National Symphony Orchestra – so if you're interested, please get in touch and make a provisional reservation. Click here for more information about Lahti 2018.
And why not treat yourself and your friends to an extra Christmas present? We recommend our new CD with Hedvig Paulig (winner of the 2011 International Sibelius Singing Competition) and Folke Gräsbeck – hear this superb singer on top form in an all-Sibelius programme. As a member, you even get a discount! Click here for more information about the CD.