Piano Miniatures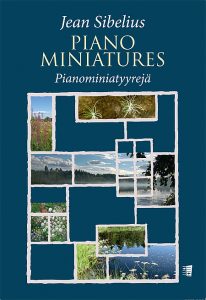 Though it is tuneful and accessible, piano music remains a cruelly neglected part of Sibelius's output and it is quite possible that many listeners outside the Nordic countries will not have encountered any of it. It is therefore very useful to have a collection of audience-pleasing pieces that can be slipped unobtrusively into concert programmes or used as encores. This very handy volume contains 24 pieces ranging from the Impromptu No. 6 from Op. 5 (1893) to three pieces from Op. 99 (1922). The aim has been to select Sibelius's best-loved short piano pieces and it therefore comes as no surprise that it features the Romance in D flat major from Op. 24, Granen (The Spruce) from Op. 75 and the above-mentioned Impromptu (although the very popular Fifth Impromptu is not included). Also probably familiar to those who have encountered Sibelius's piano music are the Étude and Pièce enfantine from Op. 76, and Aquileja from the 'Flower' pieces, Op. 85. Less often heard but no less deserving are the Souvenir and Couplet from Op. 99 and the dramatic Till trånaden, the only non-opus-numbered piece in the volume, closely related to a sketch for an unpublished orchestral suite movement. The collection does not present any complete opus groups, nor does it arrange the pieces in chronological or opus number order, which is quite reasonable, as Sibelius's opus numbering of these works was often driven more by convenience than by concern for composition dates or cyclic unity. The ordering does, however, make an eminently satisfactory sequence. Moreover there are many pieces here that are within the technical grasp of a reasonable amateur player. The actual notation used in this volume is the Urtext used in the Jean Sibelius Works (JSW) critical edition, edited by Kari Kilpeläinen and Anna Pulkkis, though without the critical comments and source analysis of the JSW volumes.
Contents:
Valsette, Op. 40/1; Chant sans paroles, Op. 40/2; Menuetto, Op. 40/4; Polonaise, Op. 40/10; Berceuse, Op. 40/5; Étude, Op. 76/2; Souvenir, Op. 99/3; Pièce enfantine, Op. 76/8; Elegiaco, Op. 76/10; Kleiner Walzer, Op. 97/3; Impromptu, Op. 99/4; Couplet, Op. 99/5; Granen, Op. 75/5; Joueur de harpe, Op. 34/8; Reconnaissance, Op. 34/9; Souvenir, Op. 34/10; Valse, Op. 34/1; Aquileja, Op. 85/4; Impromptu, Op. 97/5; Danse, Op.94/1; Nouvellette, Op. 94/2; Impromptu, Op. 5/6; Romance, Op. 24/9; Till trånaden, JS 202
Issued 2015. 979-0-55001-259-9, price € 29.90
Click here to order the Piano Miniatures
---
Five Esquisses, Op. 114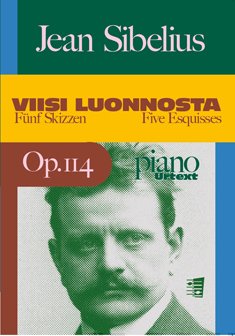 If the piano miniatures discussed above represent the most approachable side of Sibelius's piano writing, the Five Esquisses show a much more experimental approach to harmony, which for the first time in Sibelius's career becomes arguably even more important than melody. This set of pieces comes from the very end of Sibelius's active career: it was written in 1929 when he was working on the ill-fated Eighth Symphony. The adventurous musical style is often taken as an indication of what the symphony might have sounded like, but formally they are concise, no longer than many of the miniatures he had composed over the previous fifty years. The Five Esquisses were not published until 1973, by Fazer Music (the predecessor of Fennica Gehrman), but the musical text is not the same as the one that was published then but rather the one revised for the JSW critical edition (see the final chords of the first piece, Landscape, for one obvious change). There is a short introduction by Anna Pulkkis (who edited the pieces for JSW). Also included is an early version of No. 4, Song in the Forest – a reminder that Sibelius took as much care with his short pieces as he did with his big orchestral scores and often revised them.
Issued 2016. 979-0-55011-304-6, price € 21.10
Click here to order the Five Esquisses
---
Six Humoresques, Opp. 87/89
Apart from the Violin Concerto, the Six Humoresques are probably the best-known of Sibelius's concertante pieces for violin and orchestra, composed in 1916/17–1918. They have been edited for this Urtext edition by Jari Eskola, who has examined all the available sources, primarily the autograph manuscripts in the National Library of Finland. When played as a set pieces last around 20 minutes and they have won widespread praise for their idiomatic and sensitive violin writing. The solo writing is often technically difficult, but it is also highly refined: as Eskola notes, 'On the whole, Sibelius avoids upbeat bravura endings in the Humoresques. The final one concludes ethereally, with the solo violin floating high up on long notes tranquillo, dolce pp.' Maybe a more overtly full-blooded style would have earned the pieces more popularity and a greater number of performances, but as they stand they are perfect examples of Sibelius at his most subtle and beguiling.
The first Humoresque was revised in 1940, and the Fennica Gehrman edition includes both versions – the first time the 1917 score has appeared in print. The introduction casts doubt on Fabian Dahlström's theory that the reason for the revision was that the original orchestral score had been lost (the violin part is the same in both), suggesting instead that Sibelius may simply have been dissatisfied with his first attempt. The differences between the versions are discussed in the introduction).
As always when source materials are thoroughly examined, interesting facts come to light. For example: at its first performance, the orchestral strings in the passage between bars 36 and 46 in the 1940 version of Humoresque No. 1 played pizzicato; the arco marking was a later alteration.
The usual problems of deciphering Sibelius's score markings exist in the Humoresques just as much as in any of his other music. The edition points out his use of 'double slurs', for example, and discusses what these markings might mean. Another common problem is the confusion between accents and short diminuendos, famously difficult to distinguish in Sibelius's handwriting. Thus, in Humoresque No. 4, the last note of bars 9, 15 and 37 are marked with an accent, but the analogous place in bar 44 has a diminuendo.

Although this issue is not part of the JSW critical edition, the presentation of the orchestral score clearly reflects the practices and traditions established by JSW, including an interesting and detailed introduction, the score itself, several pages of facsimile music examples and a detailed critical commentary. Both the introduction and the commentary are printed in Finnish and English. The facsimiles all relate to the two versions of the first Humoresque and show clearly how Sibelius's handwriting had become much more shaky between 1917 and 1940.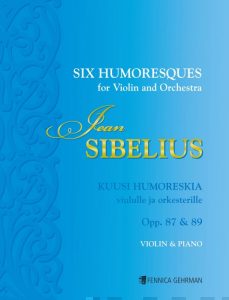 A companion publication features new arrangements by Jani Kyllönen of the Six Humoresques for violin and piano. Sibelius himself never made versions of these pieces with piano accompaniment, but they have frequently been performed in reductions by Karl Ekman (1869–1947). 'But although Ekman… was an experienced arranger', writes Kyllönen, 'for some reason he failed to produce a feasible keyboard texture in the Humoresques, and has arrangements are generally regarded as unidiomatic.' He also cites Sibelius's own negative comment about Ekman's arrangements ('Ekman's arrangements are not good; they give quite the wrong impression of the Humoresques') in a letter to the publisher Wilhelm Hansen.
Violin & Orchestra
Issued 2016. 979-05-5011-261-2, price € 70.90
Click here to order the Humoresques for violin and orchestra
Violin & Piano
Issued 2018. 979-0-55011-274-2, price € 38.50
Click here to order the Humoresques for violin and piano
---
Works for String Orchestra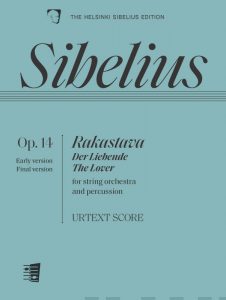 Also released separately are three significant works for string orchestra, all using the musical Urtext of the JSW critical edition (Volume III/1, ed. Tuija Wicklund and Pekka Helasvuo). The longest and most substantial of these is the suite Rakastava, here presented in its two orchestral versions from 1911–12. It is fairly well-known that Rakastava started life as a choral suite, Sibelius's entry in a competition organized by the YL Male Voice Choir in 1894. Its very first orchestral incarnation came right away: Sibelius added a discreet string accompaniment, presumably with view to helping with intonation in what was for its time an unusually challenging choral setting. A few years later came a version for mixed choir; it was not until more than a decade later, when he was staying in Paris in late 1911, that Sibelius turned the seven-minute-long choral piece into a twelve-minute-long suite for strings, timpani and triangle – but without voices. He sent this orchestral suite to his publisher Breitkopf & Härtel but very soon and second thoughts and asked for the score to be returned for a thorough revision (changes of key, significant changes in the orchestration and disposition of motifs, accomplished in early 1912. Nonetheless the piece was rejected by Breitkopf and was eventually published locally in Helsinki. The 1911 version remained unplayed and largely unknown until it was recorded by Osmo Vänskä in 2008. As an orchestral suite Rakastava is a subtle piece with restrained scoring, translucent textures – especially in the final 1912 version – and rhythms, especially in the first movement, that are complex and precise (reflecting its proximity to the Fourth Symphony). Those very qualities may limit its kerb appeal to the masses, but for experienced Sibelians they make it very special indeed.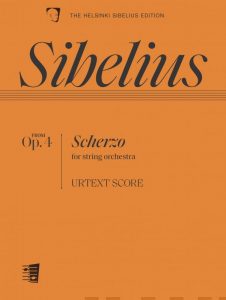 The Scherzo (or Presto) is a relatively early work, an arrangement for string orchestra of the third movement of the String Quartet in B flat major, Op. 4 (1889–90), first heard in this form in Turku in February 1894; despite receiving a few performances early on, it never really became a standard repertoire piece, nor is it likely to become one, as it require ensemble playing of the highest order to make its full effect. Even the quartet version is striking for its full sonorities, and the textures are even more saturated with orchestral strings. Both versions remained unpublished during Sibelius's lifetime.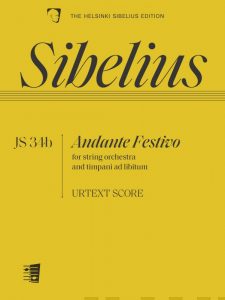 By far the most familiar of these works is Andante festivo, famously the only piece in which we have a recording of Sibelius himself conducting, from a New Year's Day broadcast in 1939. Arranged for strings and timpani – probably around 1930 – from an original work for string quartet (JS 34a, 1922), it runs to just two pages of score but certainly punches above its weight with its dignified, almost hymn-like melody – as regular and metrical as Rakastava is ethereal and seamless.
For all of these three works, orchestral parts are also available for purchase.
Rakastava
Issued 2019. 979-0-55011-401-2, price € 12.10
Click here to order Rakastava
Scherzo
Issued 2019. 979-0-55011-389-3, price € 12.10
Click here to order the Scherzo
Andante festivo
Issued 2019. 979-0-55011-399-2, price € 12.10
Click here to order Andante festivo
---
Review by Andrew Barnett.
Review copies kindly supplied by Fennica Gehrman