Breitkopf & Härtel's JSW complete edition has published the critically edited Urtext of the tone poem Finlandia as a stand-alone paperback score.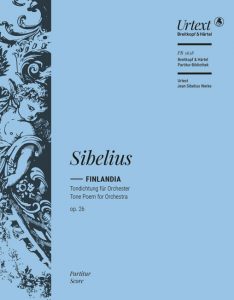 Finlandia is edited by JSW'S editor-in-chief Timo Virtanen and comes with a detailed preface discussing the tone poem's genesis and publication history. It is fascinating to learn, for example, that Sibelius took the autograph score with him to German in the autumn of 1900 but lost it – necessitating an urgent message to his faithful copyist Ernst Rölling in Helsinki, asking for a score to be written out from the orchestral parts!
The paperback volume is much cheaper than the hardback one will be (SON 630, in preparation) but does not include the full explanation of sources and of the editorial decision-making process that will come when it appears in the full hardback edition. Some asterisks in the score indicate points that will be clarified in the forthcoming volume.
Breitkopf & Härtel Partitur-Bibiothek 5658
Price: €26.64
Orchestral parts also available for purchase.
---
Also newly released by Edition Wilhelm Hansen is an arrangement by Luukas Hiltunen for string quartet of the Scène d'amour from Scaramouche, Op. 71.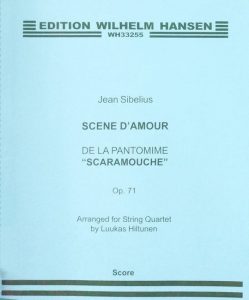 Sibelius himself arranged exctracts from the ballet-pantomime Scaramouche (1913) for piano, and the Scène d'amour also for violin and piano. This arrangement, which is based on the violin and piano version, received its world première performance on 23 March 2018 at the Church of the Cross in Lahti, Finland.
Luukas Hiltunen has also made orchestral arrangements of Sibelius's organ pieces Intrada and Surusoitto, Op. 111. More information on those arrangements was published in Sibelius One's magazine in January 2019.