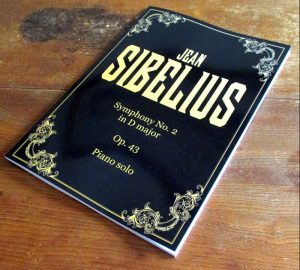 Michael Grant has made a new solo piano transcription of Sibelius's Symphony No. 2.
This new 59-page transcription features the entire symphony, complete and unabridged. It has been painstakingly prepared from the orchestral score, with great care being taken to adapt it to the unique medium of the keyboard. The result is an arrangement that remains faithful to the original whilst being idiomatically suited to the piano.
Key features of this edition:
— All 1254 bars of the symphony, faithfully transcribed for solo piano.
— This arrangement has been prepared with practicality in mind, resulting in an edition that is playable for advanced hobbyists as well as established virtuosi.
— Tempo indications, marks of expression and rehearsal letters have all been preserved from the orchestral score.
— Comprehensive bar numbers (at the start of every line) provide an invaluable reference for study and analysis.
— An in-depth introduction and commentary, written by the arranger, details the historical background of the symphony along with notable features of the music.
Michael Grant writes: 'To the best of my knowledge this is the first time this symphony has been commercially available in such a format, and I have deliberately tried to make it playable for the intermediate/advanced pianist (whereas piano transcriptions are often only suited to virtuosos).'
Michael Grant is a highly accomplished woodwind musician based in London. He is proficient in a wide range of musical styles, participating regularly in a mixture of orchestral concerts, jazz performances and musical theatre shows. He has performed in some of the most iconic venues across the UK and Europe, including London's Adelphi Theatre and Theatre Royal Drury Lane, Brussels Cathedral, and the Kaiser Wilhelm Memorial Church in Berlin. In addition, he has performed with such esteemed artists as Richard Dickins, Tom Deering and Sir Thomas Allen.
The transcription is available via Michael Grant's website
(www.michaelgrantmusician.com/shop)
Details:
Instrumentation: Solo piano
Length: 59 pages
Duration: 45 minutes
Difficulty: Intermediate/Advanced
SPECIAL INTRODUCTORY PRICE (for orders placed before midnight on 31 May 2017): £8 (+£2 P&P) [regular price will be £15 + P&P]