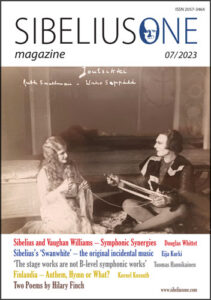 The July 2023 edition of Sibelius One's magazine is now being sent out to subscribers.
Articles planned for this issue:
— Sibelius and Vaughan Williams – Symphonic Synergies  Douglas Whittet
— Sibelius's 'Swanwhite' – the original incidental music  Eija Kurki
— 'The stage works are not B-level symphonic works'  Tuomas Hannikainen
— Finlandia – Anthem, Hymn or What?  Kornel Kossuth
— Two Poems by Hilary Finch
To subscribe or order a copy, please click here to visit the Magazine page of this website.