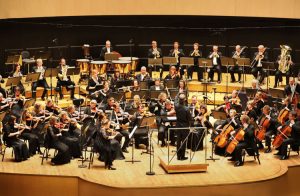 Lahti International
Sibelius Festival

2019
Latest updates to this page (below) in red.
Our group allocation for the 2019 Festival is now fully booked.
Sibelius One organizes a group visit to the Lahti Sibelius Festival each year. As part of our party you get preferential rates at a good hotel and discount on the concert tickets. There is also a visit to Sibelius's home, Ainola, as well as numerous informal social occasions with our very friendly and welcoming group.
The Lahti Symphony Orchestra's 20th International Sibelius Festival will take place at the Sibelius Hall from 5–8 September 2019, and its artistic director is Dima Slobodeniouk, principal conductor of the Lahti Symphony Orchestra.
Reservations are made via Sibelius One but no advance payment is required: you just pay the hotel (accommodation) and the Sibelius Hall box office (tickets) when you're there. This is a no-cost service but you must be a member of Sibelius One to use it. You may normally change or cancel your booking without charge simply by letting us know – but if you don't inform us and fail to use seats and accommodation booked in your name, you may be liable for the costs.
We normally reserve a block of concert tickets in the best available seats in the hall. From these seats you experience the acclaimed acoustics of the Sibelius Hall at their very best. Cheaper seats are also available, but those would be away from the main Sibelius One group.
Group members book their own travel from their home locations to Finland, as everybody's requirements vary and many people like to spend a few extra days in Finland either before or after the festival.
If you prefer to make your own arrangements for accommodation, that's fine; just tell us when you make your booking.
---
SIBELIUS FESTIVAL 2019


5–8 September 2019
THURSDAY 5 SEPTEMBER
7 pm, Sibelius Hall
Have you Courage?
The Rapids-Rider's Brides
The Origin of Fire
Kullervo
Lahti Symphony Orchestra
Dima Slobodeniouk, conductor
Marjukka Tepponen, soprano
Tommi Hakala, baritone
Polytech Choir
6 pm Pre-concert talk / Carpenter's Hall

FRIDAY 6 SEPTEMBER
1 pm, Kalevi Aho Hall, Lahti Music Institute
Sibelius's Piano Music – Lecture Concert
The pianist Folke Gräsbeck is recognized as one of the world's foremost Sibelius authorities and a recipient of the Sibelius Medal, and his lecture concert is about the origins of Sibelius's Eighth Symphony. A large number of preliminary sketches have survived for this lost work, and much of this musical material will be performed at the concert, illuminated by the newest scholarship.
The lecture concert will be in English.
Folke Gräsbeck, piano
3.30 pm, Sibelius Hall
'Dive into the Orchestra' concert: music by Sibelius
Lahti Symphony Orchestra
Dima Slobodeniouk, conductor

7 pm, Sibelius Hall
Symphony No. 5
Symphony No. 6
Symphony No. 7
Royal Stockholm Philharmonic Orchestra
Thomas Dausgaard, conductor
6 pm Pre-concert talk / Carpenter's Hall
Concert supported by the Jane and Aatos Erkko Foundation
SATURDAY 7 SEPTEMBER
2 pm, Felix Krohn Hall, Lahti Concert Hall
Chamber concert
Tuomas Ylinen, cello
Ossi Tanner, piano
Two Serious Melodies, Op. 77, for cello and piano
Four Pieces, Op. 78, for cello and piano
Five Pieces ('The Flowers'), Op. 85, for piano
Malinconia, Op. 20, for cello and piano
Nocturno from Ten Pieces, Op. 24, for piano solo
Rondino from Five Pieces, Op. 81, for cello and piano

5 pm, Sibelius Hall
The Bard
Orchestral Songs: Våren flyktar hastigt; Demanten på marssnön; Höstkväll; Arioso; Se'n har jag ej frågat mera
Night Ride and Sunrise
En saga
Lahti Symphony Orchestra
Dima Slobodeniouk, conductor
Karita Mattila, soprano
4 pm Pre-concert talk / Carpenter's Hall

SUNDAY 8 SEPTEMBER
11.30 am, Sibelius Hall
'Sibelius on a Sunday Morning'
Choral and organ works by Sibelius
Intrada and Mourful Music for organ
From 'Six Songs', Op. 18: The Broken Voice; The Boat Journey; Song of my Heart; Fire on the Island
Busy as a Thrush
To the Fatherland
The Dreams
Not with Lamentation,
Up Through the Air
Movements from the 1897 Cantata: We, the Youth of Finland; These Young Guardians of Light; We Praise Thee, Our Creator ; O Love, Your Realm is Limitless
Lord, You are a Rock
Finlandia Hymn
Dominante Choir
Seppo Murto, conductor/organ
Folke Gräsbeck, piano
TICKETS:
Ticket sales begin on Monday 14 January 2019 at Lippupiste outlets and online, and from the Sibelius Hall box office.
Price guide:
Orchestral concerts:
Thursday 5 September €49–29
Friday 6 September and Saturday 7 September €69–25
Children, students & unemployed –50%
Chamber concerts €15 / €8
'Dive into the Orchestra' concert € 25 / €8
Sibelius Hall ticket sales
Tel.: +358 600 393949 (€1.53/min+network access charge)
Lippu.fi
E & OE
---
For further information please contact andrewbarnett@fireflyuk.net
---
Planning a visit to Finland?
If you're planning a trip to Finland, Sibelius One is always happy to help its members with advice and recommendations about where to stay, what to see and what do do. Drop us a line at info@sibeliusone.com
Save
Save
Save
Save
Save
Save
Save
Save
Save
Save
Save
Save
Save
Save