Lahti International
Sibelius Festival

2023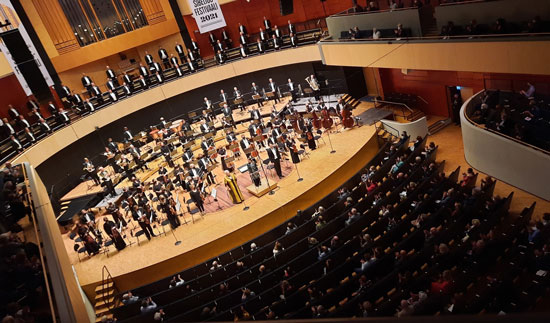 Lahti Symphony Orchestra / Dalia Stasevska (Photo: © Taina Räty)
The Lahti Symphony Orchestra's 24th Sibelius Festival will be held at the Sibelius Hall in Lahti from 7 to 10 September 2023, with Dalia Stasevska, chief conductor of the orchestra, as its artistic director. The festival will include a guest appearance by the Swedish Radio Symphony Orchestra under Daniel Harding.
The programmes for the orchestral concerts replicate original programmes conducted by Sibelius; the main chamber concert features works heard at an event to celebrate his fiftieth birthday. A family concert, 'Melody Forest', will also be included in the festival programme, on Sunday morning, 7 September.
Sibelius One Group Reservation
Ticket reservations are made via Sibelius One but no advance payment is required: you just pay for the tickets when you collect them from the ticket agency in the town centre. This is a no-cost service but you must be a member of Sibelius One to use it (click here for link to join). You may normally change or cancel your booking without charge simply by letting us know – but if you don't inform us and fail to use seats booked in your name, you may be liable for the costs.
We reserve a block of concert tickets in the best available seats in the hall. From these seats you experience the acclaimed acoustics of the Sibelius Hall at their very best. Cheaper seats are also available, but those would be away from the main Sibelius One group.
Group members book their own hotel accommodation and travel from their home locations to Finland, as everybody's requirements vary and many people like to spend a few extra days in Finland either before or after the festival. It is strongly recommended that you arrive at least one day before the first concert in case of flight delays.
---
Extra event for Sibelius One Members, 2023
As a curtain-raiser to the Sibelius Festival we are planning a day in Turku on Wednesday 6 September. The programme is as follows (details to be conformed closer to the event):
— Wednesday morning: travel from Helsinki (bus is best because of upgrade work on the railway, leaving around 10 am).
—
Lunchtime: Restaurant Grädda, which has historical links to the Sibelius Museum
— After lunch: guided walk (Folke Gräsbeck as guide) visiting locations in Turku with a special connection to Sibelius.

— Visit to the
Sibelius Museum.
—
Evening: concert at the Sibelius Museum (opening concert of their season, to feature some Sibelius).
—
Wednesday night in Turku (we can help with hotel reservations).
—
Thursday morning: travel to Lahti.
If you would like to be included on the Sibelius One group's list for tickets and/or in our day in Turku,
please contact Andrew Barnett by e-mail (click here)
no later than 31 July 2023 (current members only).
---
The Lahti Symphony Orchestra's Sibelius Festival 2023
---
Thursday 07.09. at 19.00, Sibelius Hall
NORFOLK
Lahti Symphony Orchestra / Dalia Stasevska, conductor
Pohjola's Daughter
King Christian II, Suite
The Swan of Tuonela
Finlandia
Valse triste
The Oceanides
---
Friday 08.09. at 19.00, Sibelius Hall
STOCKHOLM
Swedish Radio Symphony Orchestra / Daniel Harding, conductor
Maria Dueñas, violin
Symphony No. 1
Symphony No. 7
Violin Concerto
---
Saturday 09.09. at 13.00, Kalevi Aho Hall, Lahti Music Institute
HELSINKI – CHAMBER MUSIC CONCERT
Castalian String Quartet
Emil Holmström, piano
Voces intimae, Op. 56
String Quartet in B flat major, Op. 4
Sonatina in E major for violin and piano, Op. 80
Kyllikki, Op. 41
---
Saturday 09.09. at 17.00, Sibelius Hall
ROME
Lahti Symphony Orchestra / Dalia Stasevska, conductor
Finlandia
Pelléas et Mélisande, Suite
Lemminkäinen's Return
Symphony No. 2
---
Sunday 10.09. at 10.00, Lahden Pikkuteatteri
MELODY FOREST – FAMILY CONCERT
Jussi Makkonen, cello / Nazig Azezian, piano / Tapani Kalliomäki, recitation
---
---
For further information please contact andrewbarnett@fireflyuk.net
---
Planning a visit to Finland?
If you're planning a trip to Finland, Sibelius One is always happy to help its members with advice and recommendations about where to stay, what to see and what do do. Drop us a line at info@sibeliusone.com
Save
Save
Save
Save
Save
Save
Save
Save
Save
Save
Save
Save
Save
Save