Lahti International
Sibelius Festival

2023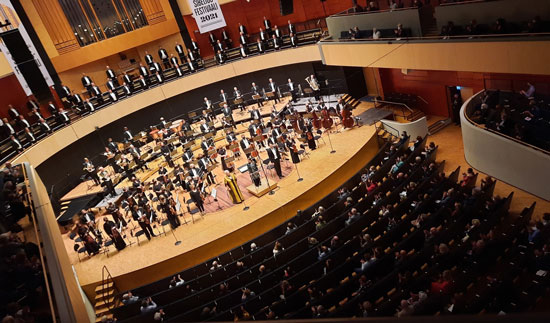 Lahti Symphony Orchestra / Dalia Stasevska (Photo: © Taina Räty)
The Lahti Symphony Orchestra's 24th Sibelius Festival will be held at the Sibelius Hall in Lahti from 7 to 10 September 2023, with Dalia Stasevska, chief conductor of the orchestra, as its artistic director. The festival will include a guest appearance by the Swedish Radio Symphony Orchestra under Daniel Harding.
The programmes for the orchestral concerts replicate original programmes conducted by Sibelius; the main chamber concert features works heard at an event to celebrate his fiftieth birthday. A family concert, 'Melody Forest', will also be included in the festival programme, on Sunday morning, 7 September.
If you would like to be included on the Sibelius One group's provisional list for tickets
please contact Andrew Barnett by e-mail (click here)
(Current members only).
---
The Lahti Symphony Orchestra's Sibelius Festival 2023
---
Thursday 07.09. at 19.00, Sibelius Hall
NORFOLK
Lahti Symphony Orchestra / Dalia Stasevska, conductor
Pohjola's Daughter
King Christian II, Suite
The Swan of Tuonela
Finlandia
Valse triste
The Oceanides
---
Friday 08.09. at 19.00, Sibelius Hall
STOCKHOLM
Swedish Radio Symphony Orchestra / Daniel Harding, conductor
Maria Dueñas, violin
Symphony No. 1
Symphony No. 7
Violin Concerto
---
Saturday 09.09. at 13.00, Kalevi Aho Hall, Lahti Music Institute
HELSINKI – CHAMBER MUSIC CONCERT
Castalian String Quartet
Emil Holmström, piano
Voces intimae, Op. 56
String Quartet in B flat major, Op. 4
Sonatina in E major for violin and piano, Op. 80
Kyllikki, Op. 41
---
Saturday 09.09. at 17.00, Sibelius Hall
ROME
Lahti Symphony Orchestra / Dalia Stasevska, conductor
Finlandia
Pelléas et Mélisande, Suite
Lemminkäinen's Return
Symphony No. 2
---
Sunday 10.09. at 10.00, Lahden Pikkuteatteri
MELODY FOREST – FAMILY CONCERT
Jussi Makkonen, cello / Nazig Azezian, piano / Tapani Kalliomäki, recitation
---
---
For further information please contact andrewbarnett@fireflyuk.net
---
Planning a visit to Finland?
If you're planning a trip to Finland, Sibelius One is always happy to help its members with advice and recommendations about where to stay, what to see and what do do. Drop us a line at info@sibeliusone.com
Save
Save
Save
Save
Save
Save
Save
Save
Save
Save
Save
Save
Save
Save