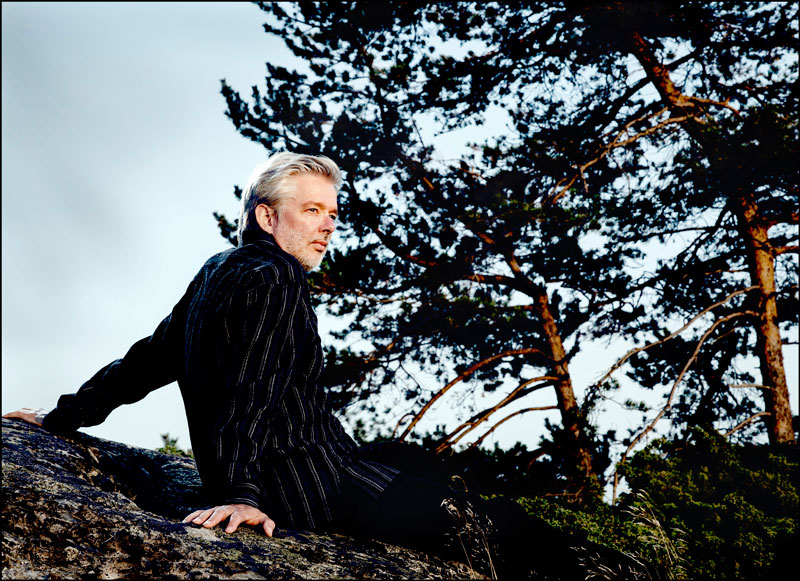 Jukka-Pekka Saraste has established himself as one of the outstanding conductors of his generation, demonstrating remarkable musical depth and integrity. Born in Heinola, Finland, he began his career as a violinist before training as a conductor with Jorma Panula at the Sibelius Academy in Helsinki.
An artist of exceptional versatility and breadth, Saraste feels a special affinity with the sound and style of late Romantic music. Equally, he maintains a strong connection with the music of our time, such as that of Dutilleux, Lindberg, Salonen and Saariaho, among others. He recently conducted the world première of Wolfgang Rihm's Triple Concerto and the German première of his Transitus at the Berlin Philharmonie, the world premières of Friedrich Cerha's Drei Orchesterstücke and Pascal Dusapin's Violin Concerto at the Cologne Philharmonie, as well as the world premieres of Philippe Schoeller's Songs from Esstal I, II, et III and Carmine Emanuele Cella's Reflets de l'Ombre at the Salle Pleyel, Paris.
Saraste has served as chief conductor of the WDR Symphony Orchestra, Cologne since 2010. In April 2015 he extended his contract until the 2018/2019 season. He was music director and chief conductor of the Oslo Philharmonic Orchestra from 2006 to 2013, and at the end of his tenure there was made conductor laureate, the very first such title bestowed by that orchestra. His previous positions include the principal conductorships of the Scottish Chamber Orchestra (1987–91), Finnish Radio Symphony Orchestra (1987–2001), after which he was made conductor laureate, Toronto Symphony Orchestra (1994–2001), and he also served as principal guest conductor of the BBC Symphony Orchestra (2002–05). He has recently held the position of artistic advisor of the Lahti Symphony Orchestra, and founded the Finnish Chamber Orchestra, for which he is still artistic advisor. He also founded the orchestra's annual Tammisaari Festival, for which he is artistic director.
His guest engagements have led him to the major orchestras worldwide, including the London Philharmonic Orchestra, Philharmonia Orchestra, Leipzig Gewandhaus Orchestra, Munich Philharmonic Orchestra, Dresden Staatskapelle, Bavarian Radio Symphony Orchestra, Royal Concertgebouw Orchestra, Rotterdam Philharmonic Orchestra, Vienna Symphony Orchestra, NHK Symphony Orchestra, Orchestre de Paris and the leading Scandinavian orchestras, among others. In the USA he has conducted the Cleveland Orchestra, Boston Symphony Orchestra, Chicago Symphony Orchestra, San Francisco Symphony, Los Angeles Philharmonic and New York Philharmonic.
Jukka-Pekka Saraste's extensive discography includes the complete symphonies of Sibelius and Nielsen with the Finnish Radio Symphony Orchestra. He has made a number of critically acclaimed recordings for Toronto Symphony Orchestra of works by Bartók, Dutilleux, Mussorgsky and Prokofiev for Warner Finlandia, most notably a recording of Dutilleux's Second Symphony. His recordings of Mahler's sixth symphony with the Oslo Philharmonic Orchestra and Mahler's Ninth Symphony with the WDR Symphony Orchestra Cologne have received widespread acknowledgement. His recordings with WDR Symphony Orchestra for Hänssler have earned him high critical praise, and include Schoenberg's Pelléas and Mélisande, Stravinsky's  Firebird, Brahms' Symphonies No. 1 and No. 3 as well as Mahler's Fifth Symphony.
Jukka-Pekka Saraste has received the Pro Finlandia Prize, the Sibelius Medal, and the Finnish State Prize for Music. He was awarded an honorary doctorate from York University, Toronto and an honorary doctorate from the Sibelius Academy, Helsinki.
---
— How did you first get interested in Sibelius?
It was actually the Fourth Symphony that made the biggest impact on me, and I think contact with some interpretations, for example Paavo Berglund, reinforced my interest, and the way he was conducting made me convinced that there's an incredible truth in the music, which I didn't discover so early in the other symphonies – with No. 2, for example, it took a long time before I was completely ready for it.
— What was the first work by Sibelius that you ever conducted, and what was the occasion?
It must have been No. 2, when I was in the music camp of Lapua, and had a youth/student/festival orchestra at that music camp.
— Which of your own Sibelius performances has been most memorable for you, and why?
Certainly the most important Sibelius performance was in Australia with the Finnish Radio orchestra, and I was conducting No. 6. We had an orchestra tour with three different conductors, Leif Segerstam, Esa-Pekka Salonen and myself. I did No. 6, and that kind of created my future with the Finnish Radio orchestra because of that performance.
— Which work by Sibelius do you rate most highly, and why?
These things come and go, but I think No. 4 – I've always had the strongest and most stable respect for that symphony. And the others, they change: sometimes I feel very comfortable with No. 5 – nowadays I do No. 5 a lot – but also No. 2, which I have recently come to terms with, and I do quite often.
— Are there any works by Sibelius that you would be cautious about conducting? And if so, why?
I find it very risky to do No. 3. For some reason the technical difficulties in that symphony are quite substantial, and of course I would like to know how the orchestra is performing this kind of music. Of course Kullervo is another work that needs a special relationship, and if the orchestra doesn't have that kind of attitude, it becomes quite a hard piece to do.
— What ambitions, aspirations or plans do you have for performing Sibelius in the future?
In the territories that are not so familiar with Sibelius's music, one has to feel a bit like a champion for the music, particularly in Germany; I feel that still there's a lot to do in getting some of the lesser known works performed and played well. It's a matter of rehearsal time, and the orchestra needs many performances to get used to the material. Those things are challenges still.
—Who would you think of as the greatest Sibelius conductor of all time, and why?
I think the most important Sibelius conductor was Paavo Berglund, because for all of us he could make these pieces work, and convince all the other conductors that even the biggest problems of the symphonies can be solved if you work and if you put a lot of thought and effort into making them work. I think he has done the biggest service for this music, ever. There were some incredible interpreters, like Karajan, for certain symphonies, for No. 4 in particular.

— Which other Finnish or Nordic composers would you recommend to lovers of Sibelius?
There are works that nobody performs, by Väinö Raitio for instance, that are extremely powerful and interesting. Some of the better works of Klami as well; they are very international. Of course there are works by Merikanto and Madetoja, but with those two composers I find that the symphonic writing is not as strong as it should be. But the opera Juha by Aarre Merikanto is, I think, one of the masterpieces. And then we have to come to later composers, Rautavaara, Kokkonen, Sallinen, and then the younger generation, Magnus Lindberg, Kaija Saariaho, and some works of Esa-Pekka Salonen; they are very close to me personally, because I have been giving the first performances of many of those.
— What advice would you have for young musicians who want to perform Sibelius?
We had a Sibelius competition for young conductors, and from the beginning we had a problem with the rules of the competition, that all of them should perform a symphony by Sibelius, and then I realized how extremely hard it is, even after doing Stravinsky and Beethoven and the other repertoire in the competition, then comes this task to do a Sibelius symphony, particularly in Finland. For many competitors that turned the situation upside down. I think Sibelius is a composer that you really have to have the feel for – and even if you have the feel, you have to work really hard to make it work with the orchestra. I would certainly start with the obvious, early works, and make them as good as possible; the First or Second Symphonies would be the ones that I would recommend in the beginning.
Jukka-Pekka Saraste spoke to Sibelius One in Cologne, 2 December 2015.
---
Selected Sibelius recordings by Jukka-Pekka Saraste:
Symphonies 1–7 / Finnish Radio Symphony Orchestra. Finlandia Records 4509-99963-2
Also released on separate CDs:
Nos 1 & 5: 4509-99960-2; Nos 2 & 4: 4509-99961-2; Nos 3, 6 & 7: 4509-99962-2
Symphony No. 1 (DVD) / Oslo Philharmonic Orchestra / Nordisk Film og TV AS
Symphony No. 5 (DVD) / Oslo Philharmonic Orchestra / Nordisk Film og TV AS DVD 1794931