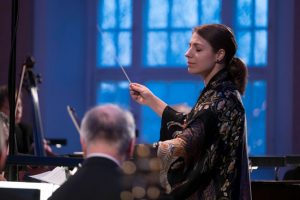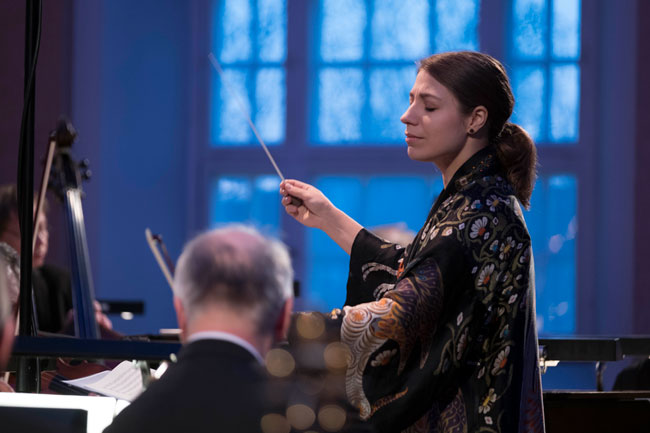 The Lahti Symphony Orchestra has appointed Dalia Stasevska as its new principal conductor with effect from the autumn of 2021, when Dima Slobodeniouk's tenure ends. The Lahti Sports and Culture Committee reached this decision at a meeting on 20 May 2020. Stasevska's contract term extends until the end of the spring season in 2024, and from 2021 she will also take on the role of artistic director of the orchestra's international Sibelius Festival. Stasevska, whose international career is making rapid headway, has also been principal guest conductor of the BBC Symphony Orchestra in London since 2019.
'For me, the Lahti Symphony Orchestra has long held a very special position', says Dalia Stasevska. 'In Lahti there's a tremendous amount of potential; the orchestra's players are inspired, they are minded to do great things and they have the capacity to play repertoire in different styles without prejudice. It's also a great pleasure to continue the Lahti Symphony Orchestra's important work with the music of Sibelius. It's a great honour for me to hold the position of this orchestra's principal conductor and I believe that together we will achieve great, new things!'
Teemu Kirjonen, general manager of the Lahti Symphony Orchestra, remarks: 'Dalia Stasevska is one of Finland's most sought-after conductors all over the world at the moment. Her visits to Lahti have been great experiences for the audience and also for the orchestra, and we have really high hopes concerning our future collaboration.'
In the coming autumn Dima Slobodeniouk will begin his last concert season as principal conductor of the Lahti Symphony Orchestra. 'Slobodeniouk has made a significant contribution to the orchestra's artistic development and to the enrichment of its repertoire, and Stasevska will be able to continue this process in a natural way', Kirjonen comments; he feels that the future cooperation will also prove advantageous for the continuation of recording and touring activities.
'I believe that Dalia has the ability to understand the aesthetics of the Lahti Symphony Orchestra, and her way of working fits in with the high work principles of the orchestra', says Dima Slobodeniouk. 'I hope that under Dalia's direction the Lahti Symphony Orchestra will become an even more diverse orchestra and grow both "upwards" into the world at large and "downwards" to strengthen its roots as Lahti's own orchestra.'
Source: Lahti Symphony Orchestra press release