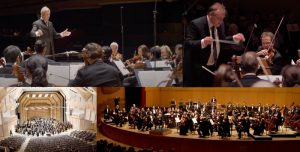 Even if the coronavirus crisis means that in many countries concerts are cancelled, you can still enjoy virtual concerts online.
And even though many YouTube videos feature well-known commercial recordings, there are also plenty of excellent concert recordings available, often from performers who have not recorded the music on CD but play it with freshness and excitement.
We have added a page on this website containing links to some of our favourite Sibelius highlights on YouTube. The page will be updated with more recommendations. Already it includes performances of all seven symphonies, Kullervo, the Violin Concerto and several tone poems.
To qualify for inclusion, a performance must be a concert performance or a studio performance not released on disc. It must also be an original work by Sibelius, not a third-part arrangement. Ideally (but not essentially) it will include video of the performance rather than still images.