Jannen Salaisuus, extract (Finnish National Opera video)
The Finnish composer Olli Kortekangas has composed a children's opera called Jannen salaisuus (Janne's Secret; 2015), aiming firstly to create a work about Sibelius's childhood, and secondly to present his music, his aesthetics and even a few of his composition techniques to children. The piece was commissioned by the Finnish National Opera, lasts 45 minutes, and is scored for three soloists, violin, piano, and children's chorus.
The libretto was written by the prominent Finnish author, journalist and broadcaster Minna Lindgren, and it is based on real life although there are also fictional elements and the chronology has been adapted. In the music there are quotations from around fifteen of Sibelius's works and some from Mozart, Schubert and Wagner, plus many stylistic allusions; the basic motif – described by Kortekangas as 'a bit "bluesy"', is derived from the keys of Sibelius's seven symphonies.
The undertaking was approved by the Sibelius estate. So far Jannen salaisuus has been performed in around fifty schools around Finland, and the tour continues until the end of 2016. The children's chorus is always from the respective school, so the children have the opportunity to work with opera professionals. 'From my point of view', says Kortekangas, 'it's been a wonderful project.'
In addition, in 2015 Kortekangas wrote a three-movement male choir piece for the YL Choir called Höstlig skärgård (Autumnal Archipelago), with the subtitle 'Hommage à Jean Sibelius'. The text is by the Swedish poet Tomas Tranströmer (1931–2015), who was a big fan of Sibelius's music. In Kortekangas's piece there is not that much actual Sibelius; the connection is more on an emotional and symbolic level: high quality poetry in Swedish, images of nature and so on.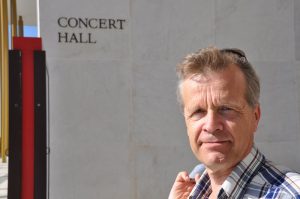 Olli Kortekangas (b. 1955) studied music theory and composition at the Sibelius Aca­demy in Helsinki under the direction of Einojuhani Rautavaara and Eero Hämeen­niemi, and continued his studies in Berlin with Dieter Schnebel. He has subsequently worked as a teacher himself, including periods at the National Theatre Academy and the Sibelius Academy, and has taken part in educational projects with children and youth, in Finland and abroad. His music has been featured in concerts and at festivals around the world, and he is currently working on several domestic and international com­missions. He has received numerous awards, including the Special Prize of the Prix Italia Competition, the City of Salzburg Opera Prize and the prestigious Teosto Prize, and has four times been the recipient of the five-year grants of the Arts Council of Finland.
Olli Kortekangas's œuvre consists of about 140 works, from solo pieces and cham­ber music to orchestral works and operas. He has been attracted to the human voice since his early days, and has written nine operas including the successful Daddy's Girl (2007), for the Savonlinna Opera Festival, and the monologue Own Fault (2015). Collaborations with some of the best Finnish choirs have resulted in many a cappella choral works which have entered the international repertoire. Korte­kangas has also written several works for chorus and orchestra such as Seven Songs for Planet Earth, commissioned and premièred by the Choral Arts Society of Washing­ton, and Migrations (2014), to words by Sheila Packa, for the Minnesota Orchestra and Osmo Vänskä.
During a residency with the Oulu Symphony Orchestra (1997–2009) Kortekangas turned his attention to orchestral composition, which has resulted in a number of works, including several concertos. His output also includes chamber and instrumental solo works, particularly for the organ, as well as chamber music with voice. Recently, he has written several works for period instruments. Throughout his career, Korte­kangas has also been interested in collaboration with other arts and artists. Olli Korte­kangas's music is published by Fennica Gehrman and represented internationally by Boosey & Hawkes and Schott Music.
Save
Save
Save
Save
Save
Save