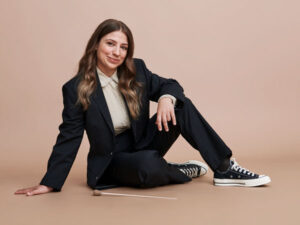 Dalia Stasevska (Photo: © Veikko Kähkönen)
A rare work for narrator, choir and orchestra by Sibelius will be featured at the First Night of the BBC Proms 2023 (14 July), conducted by Dalia Stasevska. Snöfrid, Op. 29, a setting of words by Viktor Rydberg, dates from 1900 and was described by a reviewer after its premiere as making 'an impression of great feeling and warmth; it seems so clear and inspired that it is undeniably to be numbered among Sibelius's masterpieces'. This 14-minute piece is dramatic and lyrical by turns, with sumptuous melodies and an undercurrent of political allegory very typical of its time.
The concert also includes Finlandia, a new work by Bohdana Frolyak, Grieg's Piano Concerto (solo: Paul Lewis) and Britten's Young Person's Guide to the Orchestra.
Othwewise Sibelius is represented at the 2023 Proms by his First Symphony, performed by the BBC Philhamonic under its principal conductor John Storgårds on 3 August.
General booking opens at 9am on Saturday 13 May:
— online at www.royalalberthall.com
— by phone on 020 7589 8212 (9am – 9pm daily 13–21 May and 9am – 5pm weekdays from 22 May)
— in person (daily 9am – 9pm).
---
Works by Sibelius at the 2023 BBC Proms
at the Royal Albert Hall in London:
Friday 14 July 2023 – Prom 1 (First Night)
Finlandia, Op. 26
Snöfrid, Op. 29
and music by Frolya, Grieg and Britten
Paul Lewis, piano / BBC Singers / BBC Symphony Chorus / BBC Symphony Orchestra /Dalia Stasevska
https://www.bbc.co.uk/events/evgxp6
Thursday 3 August 2023 – Prom 26
Symphony No. 1
and music by Barry and Walton
BBC Philharmonic / John Storgårds
Full season listing, click here: https://www.bbc.co.uk/events/rrbp5v/by/date/2023