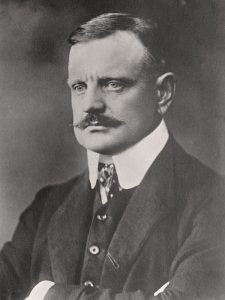 Sibelius is Composer of the Week on BBC Radio 3 in the week beginning Monday 12 February 2018. Donald Macleod will present a series of hour-long programmes exploring Sibelius's life and work each weekday at 12.00.
Monday: 'Janne'
Vattendroppar · Violin Concerto · Serenad · Piano Quintet (1st mov.)
Tuesday: 'From Happiness to Despair'
Kullervo's Death · Impromptu in B minor · The Swan of Tuonela · Symphony No. 1 (finale) · Malinconia
Wednesday: 'Drowning Sorrows'
Finlandia Hymn · Symphony No. 2 (finale) · In memoriam · Pohjola's Daughter · The Maiden with the Roses (Swanwhite)
Thursday: 'A Mountain to be Climbed'
Valse triste · Symphony No. 4 · The Bells of Kallio Church · Symphony No. 5 (finale)
Friday: 'A Mystery at the End'
Two Schybergson songs · Symphony No. 6 · Chorus of the Winds; Prospero; Dance Episode (The Tempest) · Andante festivo · Sydämeni laulu
Presenter Donald Macleod was educated in Glasgow and at St Andrew's University where he studied psychology. He began his career as a presenter in 1982 on BBC Radio 3 and for BBC1's 60 minutes as a TV reporter and newsreader.
The programmes will be available on BBC iPlayer shortly after broadcast.
Further information: http://www.bbc.co.uk/programmes/b09r40xp