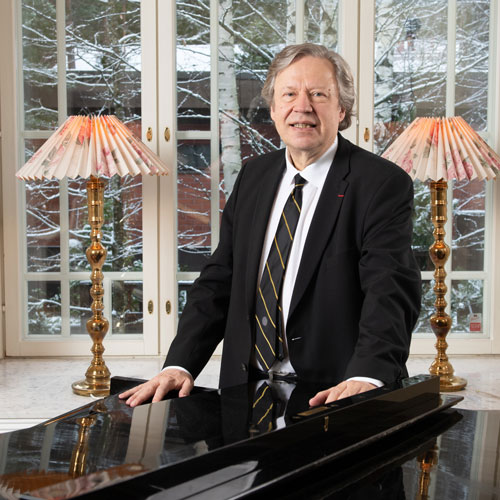 Folke Gräsbeck (photo: © Veli-Pekka Väisänen)
Sibelius One is delighted to announce that Folke Gräsbeck has become President of Sibelius One. He was elected unanimously by those present at Sibelius One's AGM in Hesan kamari, Ainola, Finland on 1 September 2022.
Folke Gräsbeck is the second person to hold the post of President, succeeding John Davis who passed away in 2021.
A leading pianist and Sibelius scholar of worldwide renown, Folke Gräsbeck studied at the Turku Conservatory under Tarmo Huovinen and won the Maj Lind Competition in 1973, when he was seventeen. On several study trips to London he had private lessons with Maria Curcio-Diamand. He gained a Master of Music degree from the Sibelius Academy in 1997, and became a Doctor of Music in 2008 (topic: 'The Piano in Sibelius's Youth Production'). Between 1985 and 2017 he was a lecturer and chamber pianist at the Sibelius Academy. He has performed in many countries including the USA, Egypt, Lebanon, Israel, the United Arab Emirates, Botswana, Zimbabwe, Mexico, Japan and China. He has also performed at concerts organized by Sibelius One.
He has performed more than 400 of Sibelius's total of around 600 works, and is one of the central interpreters in BIS Records' Complete Sibelius Edition, where he participates on 24 discs including the complete solo piano music (10 CDs), the Piano Quintet ('Best Recording', American Record Guide), solo songs, chamber music and choral works.
Gräsbeck has been artistic director of the Sibelius in Korpo Festival since its inception in 2002. He was decorated with the Cross of Merit of the Order of the Lion of Finland in 2009 and received the Sibelius Medal in 2014.


Folke Gräsbeck (left) addressing Sibelius One members in Lahti, 2022