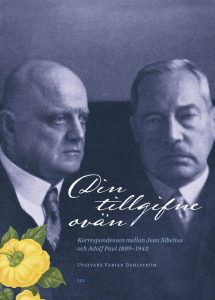 The correspondence between Sibelius and Adolf Paul has been published by SLS (the Society of Swedish Literature in Finland), in an edition by Fabian Dahlström (in Swedish).
The letters show the development of a deep friendship that started in the 1880s at the Helsinki Music Institute. Adolf Paul settled in Berlin and chose to become an author rather than a musician; he played an important role when Sibelius was establishing contact with German music publishers.
Adolf Paul (born in Bromö, Sweden 1863, died in Berlin 1943) is today best known for his friendship with artists and writers such as August Strindberg, Edvard Munch and Knut Hamsun. He wrote in German and Swedish. Sibelius wrote music for his plays King Christian II (1898) and The Language of the Birds (1912).
In their letters Sibelius and Paul discuss everything from financial problems and family matters to their current projects and publishing contacts.
Fabian Dahlström is professor emeritus of musicology at Åbo Akademi, where he worked from 1973 until 1993. He has published the pioneering catalogue of Sibelius's music with commentaries Jean Sibelius: Thematisch-bibliographisches Verzeichnis seiner Werke (Breitkopf & Härtel 2003) and was editor-in-chief of the critical edition of Jean Sibelius's music from 1994 until 2000. In 2005 his edition of Sibelius's diaries (Jean Sibelius dagbok 1909–1944) was published by SLS, followed in 2010 by his edition of the correspondence between Sibelius and Axel Carpelan, Högtärade Maestro! Högtärade Herr Baron! In addition Fabian Dahlström, who has also appeared as a clarinettist and recorder player, is the author of numerous other historical works and musical editions (on subjects including the clarinettist and composer Bernhard Henrik Crusell), and he has contributed to the major reference work Suomen musiikin historia.
Save
Save
Save