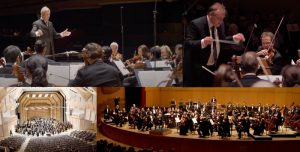 There is no shortage of music by Sibelius on YouTube – but how do you find the best performances? On this page we list our own selection. We have tried to focus on interesting, sometimes unexpected combinations of artists and repertoire.
To qualify for inclusion, a performance must be a concert performance or a studio performance not released on disc. It must also be an original work by Sibelius, not a third-part arrangement. Ideally (but not essentially) it will include video of the performance rather than still images.
Note: Sibelius One is not involved commercially or otherwise with the production or distribution of any of the recordings listed.
The selection is naturally subjective but if you would like to suggest more performances, please send the link by e-mail to gm@sibeliusone.com and we'll take a look.
---
Symphony No. 1 – Hannu Lintu has recorded a lot of Sibelius with the Finnish Radio Symphony Orchestra, but here he conducts the Singapore Symphony Orchestra in a solid and well proportioned account from October 2018.
Symphony No. 2 – when Dima Slobodeniouk took over as principal conductor in Lahti in 2016, he was not primarily known for his Sibelius interpretations. But as this 2014 performance with his 'other' orchestra – the Orquesta Sinfónica de Galicia – shows, he certainly knows how the Second Symphony ought to go.
Symphony No. 3 – a first-rate performance from the hr-Sinfonieorchester (Frankfurt Radio SO) conducted by Jaime Martín from February 2018. Colourful, characterful playing throughout; poetry and musical architecture are supremely balanced, with excellent pacing, especially in the first two movements.
Symphony No. 4 – precocious and childlike, or vital and energizing: you can't ignore Santtu-Matias Rouvali, a true 'Marmite' conductor. In October 2015, with the Tampere Philharmonic Orchestra (of which he was then chief conductor), he gave a performance of the Fourth Symphony which, despite occasional agogic and dynamic mannerisms, is undeniably powerful. Still images only.
Symphony No. 5 – again in Frankfurt, this time with Hugh Wolff conducting the hr-Sinfonieorchester in January 2016. A very focused performance; in the second half of the first movement the gradual accelerando is handled with great skill.
Symphony No. 6 – a performance from September 2019 with Susanna Mälkki and the Helsinki Philharmonic Orchestra. Beware: the recorded balance emphasizes the closely miked woodwind, harp and (to a lesser extent) timpani. If you don't mind that, the performance is very well played and perceptively conducted. Still image only.
Symphony No. 7 – Mikko Franck took over as music director of the Orchestre philharmonique de Radio France in September 2015, some months after performing the Seventh Symphony with this orchestra at the Auditorium of Radio France in Paris.
Violin Concerto – a crowded field on YouTube, but James Ehnes gave a distinguished performance with the hr-Sinfonieorchester under Andrés Orozco-Estrada in April 2015. The tone colour is just right for Sibelius, and the virtuosity is never paraded for its own sake.
Kullervo – an expansive performance from Pietari Inkinen, dating from May 2013. Fine playing from the Munich Philharmonic Orchestra and impressive choral singing from the Male Voice Choir of the Munich Philharmonic Choir and the YL Male Voice Choir. Soloists Monica Groop and a rather strained-sounding Jukka Rasilainen. Still image only.
Lemminkäinen – a complete set of the four tone poems conducted by Franz Welser-Möst with that most un-Sibelian of orchestras, the Vienna Philharmonic, on a visit to Helsinki in June 2015. Impressive tone even if the orchestra sounds unfamiliar with the music and idiom. The Swan of Tuonela is rather hurried.
Finlandia – A cultured performance of Finlandia? Yes, this one is. Japanese performers have a strong reputation in Sibelius and here the NHK Symphony Orchestra under Charles Dutoit demonstrate why. There are intriguing subtitles on the video, too.
The Oceanides – a very poetic, steadily paced performance by the London Symphony Orchestra conducted by Antonio Pappano.