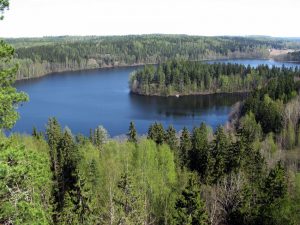 Lake Aulanko from Aulanko Tower
Photo: © Leo-setä (Creative Commons Attribution 2.0 Generic)
On 24 August 2018 the city of Hämeenlinna will inaugurate the 'Sibelius Forest', an approximately 100-hectare nature reserve east of the Lake Aulanko – the area seen from Aulanko observation tower. The forest is located in Hämeenlinna National Park, Finland's first and the world's second national urban park, established in January 2001.
The aim of the Sibelius Forest is that it will not significantly limit recreational use of the land (e.g. the Aulanko Hiking Trail) but will take better account of the objectives of the nature conservation area. The area has considerable indirect economic significance, contributing to tourism in Aulanko/Hämeenlinna.
The establishment of the Sibelius Forest Nature Reserve strengthens the position of Hämeenlinna as the 'city of Sibelius', protecting the nationally valuable landscape and natural environment, that inspired Sibelius to compose Finlandia.
The young Sibelius enjoyed the forest, often visited Aulanko and was familiar with the views. In the late 19th century, Aulankovuori Hill was a popular place for excursions, with a wooden lookout pavilion at the top of the hill; later, a 33-metre tall granite observation tower was built (Waldemar Aspelin, 1906–07).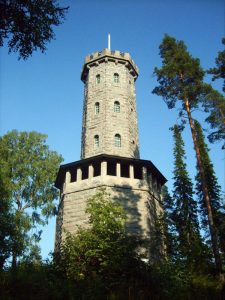 Aulanko Observation Tower
Photo: © Alessio Damato 2006 (GNU Free Documentation License, Version 1.2 / Creative Commons Attribution-Share Alike 3.0 Unported)
The establishment of the Sibelius Forest is linked to Finland's centenary celebrations in 2017.
Further information (in Finnish) click here.