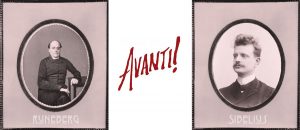 One of Sibelius's rarest works, the Melodrama from Svartsjukans nätter (Nights of Jealousy) will be performed in Porvoo, Finland, in June as part of Avanti!'s Summer Sounds music festival.
This large-scale melodrama for soprano, piano trio and recitation, some 15 minutes long, was composed in 1893 to mark the birthday of the poet J.L. Runeberg, whose words it sets. The poem tells of a dream in which the poet is blissfully reunited with a former lover, but from which he wakes abruptly just when his happi­ness seems complete. Sibelius re-used some of its thematic material in the well-known fifth and sixth Impromptus for piano.
The performers include some of Finland's most distinguished and high-profile musicians, among them Anu Komsi and Sakari Oramo.
June 30 June 2018 at 6 pm, Avanti! Hall (Art Factory, Porvoo, Finland)
'O dröm'
Mozart:  Clarinet Quintet, K 581
Sibelius: Melodram ur Svartsjukans nätter, JS 125
Heinz-Juhani Hoffmann: Four Songs to texts by Jussi Kylätasku (world première)
Schoenberg: String Quartet No. 2
Anu Komsi, soprano  ·  Frank Skog, narrator
Kari Kriikku, basset clarinet  ·  Eero Manninen, piano 
Sakari Oramo, violin  ·  Jukka Rautasalo, cello
Avanti! Quartet

Avanti!'s music festival Summer Sounds has been held since 1986 in Porvoo and Pernaja.
Tickets: € 32/27/15 (click here for link to ticket sales). Bus transfers from Helsinki are available.