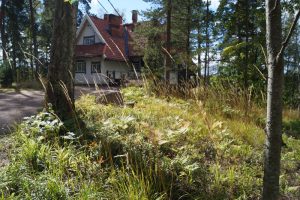 The programme at Sibelius's home, Ainola, in 2018 includes numerous concerts and garden tours.
Concerts 2018
Lahti Sibelius Festival mini-concerts will be given on Wednesday 13 June and Sunday 17 June at 12 noon and 1 pm by the Wellamo Trio (Lotta Nykäsenoja, violin; Ilkka Uurtimo, cello and Anu Silvasti, piano). On the programme is Sibelius's Piano Trio in A minor, 'Hafträsk', JS 207 (1886).
Entry is included in the Ainola admission ticket price or via the Museum Card.
No prior reservations or seating / no guided tours between 11.30 and 1.30 on concert days.
Meidän Festivaali / Our Festival concerts will take place on Monday 23 July at 2 pm and 5 pm. The concerts have the theme 'Animals and Plants', and the festival's artistic director Pekka Kuusisto is among the performers.
Programme:
Gabriella Smith: Carrot Revolution [Kamus Quartet]
Heinrich Ignaz Franz von Biber: Sonata Representativa [Pekka Kuusisto, violin / Jarmo Julkunen, guitar]
Tytti Arola: Metsä [Pekka Kuusisto, violin]
Jean Sibelius: 'The Trees', Op. 75 [Ingfrid Breie Nyhus, piano]
Tickets, 2 pm – click here
Tickets, 5 pm – click here
Music on Sibelius's instruments – Thursday 30 August at 6 pm
Kaisa Porra-Hänninen, violin; Kari Hänninen, piano
Music by Jean Sibelius, Armas Järnefelt and Joonas Kokkonen
These artists return to Ainola after a concert in December 2016 also featuring Sibelius's own instruments. Kaisa Porra-Hänninen has played in the Finnish National Opera Orchestra for most of her career and has appeared frequently with the Finnish Radio Symphony Orchestra, Tapiola Sinfonietta and Lahti Symphony orchestra. Kari Hänninen has worked as a choir répétiteur at the Finnish National Opera, as an orchestral pianist and as an accompanist at the Sibelius Academy.
Tickets – click here
'Do you hear how nature smells?' – Thursday 20 September at 6 pm
Jussi Makkonen, cello; Nazig Azezian, piano
This concert, on the 61st anniversary of Sibelius's death, includes some of Sibelius's most popular pieces in arrangements for cello and piano (The Spruce; Valse triste; Finlandia). In 2017 Makkonen and Azezian received a platinum disc for their recording accompanying the children's book Soiva metsä (Melody Forest). That disc was recorded at Ainola in 2014 and are well-known for championing Sibelius's music internationally, and especially for their performances for children and young people'
Hear them perform Finlandia – click here
Tickets – click here
'Well-known and Enigmatic' – Saturday 8 December at 5 pm
Folke Gräsbeck, piano; Petteri Iivonen, violin, with Prof. Timo Virtanen
Folke Gräsbeck has performed more than 400 works by Sibelius and recorded them extensively. Petteri Iivonen, winner of the Kuopio Violin Competition and a prizewinner at the Sibelius Violin Competition in 2010, performs regularly as a soloist with prestigious international orchestras. Timo Virtanen is editor-in-chief of the Jean Sibelius Works critical edition.
Tickets go on sale in June.
Garden Tours
During the summer of 2018 there will be guided tours of the garden that Aino Sibelius created at Ainola. The tours will focus on the planning of the garden, the choice of decorative and functional plants, the history of the garden and Aino Sibelius's significance for Finnish gardening.
The construction of Ainola's garden began in 1904 when the family moved in. The garden's essential nature has been well preserved, and reveals much both about the importance of growing plants for food and about the way the beauty of nature provided artistic inspiration for the family. For Sibelius, the grounds and garden at Ainola were an important source of inspiration, as is shown for example in the numerous piano pieces that are named after trees and flowers.
Guided tours in Finnish on Thursdays at 3 pm (until 13 September 2018)
Guided tours in English on Thursdays in August at 12 noon
Entry is included in the Ainola admission ticket price or via the Museum Card
Group bookings available (€30 per group plus admission ticket price) – information: info@ainola.fi
(N.B. There will be no tours on 21 June, 23 August, 20 September and 27 September)
Other news
The roots of the spruce hedge adjoining the car park at Ainola have been affected by excavations, and the hedge will be renewed in the spring of 2018. For the sake of consistency, the hedge is also being also extended on the other side of the gate. At the same time, the gate will be replaced because the position of the hedge is changing. While the new hedge is growing, a metal fence is being incorporated into it.