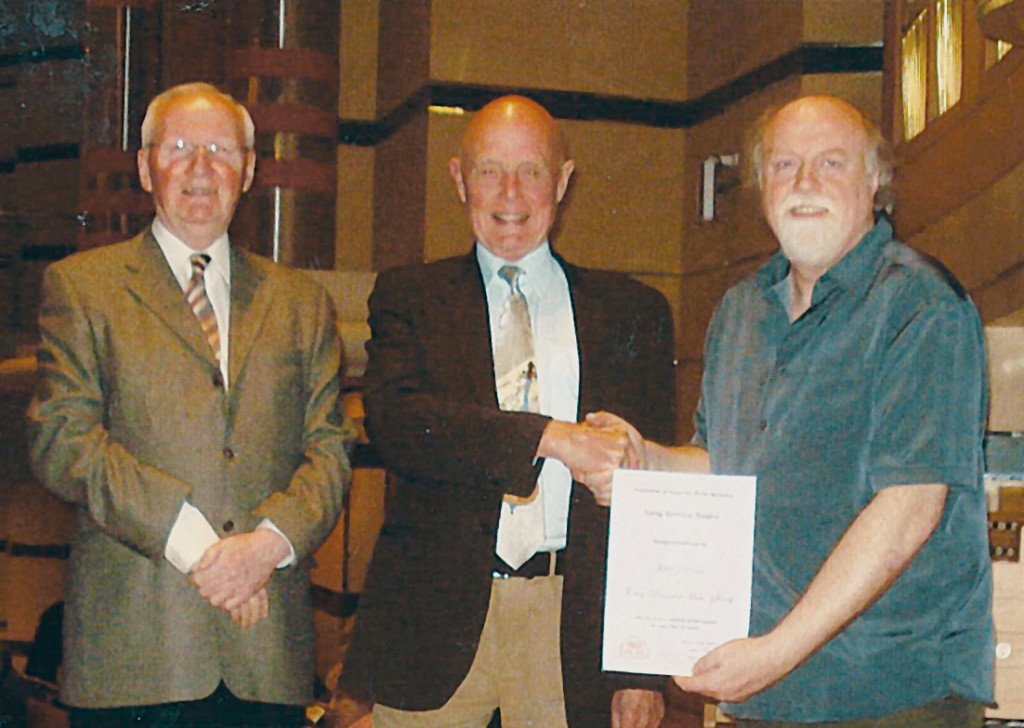 Lyndon Jenkins, John Davis and Peter Donohoe
at Symphony Hall, Birmingham, 14th December 2011
I have completely lost count of the number of times that I met up with the one and only Lyndon Jenkins. I first heard his unique style of oration when, many years ago, he addressed our South Devon Society, back in the days when we were called the 'Torbay Gramophone Society'.
Lyndon was the most spontaneous orator that I've personally encountered, and his encyclopedic knowledge of countless aspects of the music scene was a treasure to behold. Lyndon introduced me, often in the green room of Symphony Hall, Birmingham, to countless professional musicians over the years, but one meeting was so special for me that it will stay with me for ever and a day. On one of my many group excursions to musical events (in the UK, across Europe and beyond) we were just concluding lunch in the Italian restaurant in Birmingham's Symphony Hall complex (an occasion on which Lyndon introduced me to that day's concert's conductor, Sakari Oramo) when Lyndon took me up to a studio where a young Chinese lady was playing the piano. I was introduced to Di Xiao and then, with a signal from Lyndon, this lady played 'especially for me' (there were only the three of us present) the Impromptu Op.5 No.5 by Sibelius. None of my friends can believe me when I say that at the conclusion I was speechless! Di Xiao had never heard of this piece a fortnight earlier, when Lyndon introduced her to its glories, and she played it from memory! Fortunately this is available on a CD that Di Xiao has recorded*, made in Symphony Hall – my copy is autographed by Di Xiao herself.
The music world has lost a giant, and Lyndon Jenkins will never be forgotten.
John J. Davis
* Di Xiao Presents – Ecstasy Records 08DX01 – Music by Mozart, Ravel, Sibelius, Nielsen, Chen and Albéniz