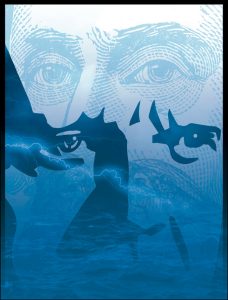 On Saturday 17 November 2018 at 7.00pm a semi-staged performance (without vocal parts) of The Tempest with Sibelius's original theatre music, preceded by Finlandia, will take place in Welwyn Garden City, performed by the Mid Herts Youth Orchestra conducted by Tom Hammond.
The performance is directed by Peter Avery, with actors from the Mid Herts Centre for Music & Arts Community.
The Mid Herts Youth Orchestra is a full symphony orchestra and plays on a weekly basis with the aim of giving young musicians the opportunity to play in a high-standard orchestral setting.
This event is supported financially by Sibelius One.
Venue: Ridgeway Academy, Herns Lane, Welwyn Garden City AL7 2AF (a 10-minute walk from the station / ample parking)
Tickets:
Adults £6 / Concessions £3 / Accompanied children free. Tickets are available on the door.
Sibelius One members can obtain complimentary tickets. Click here to order these.
Illustration by Paul Harraway