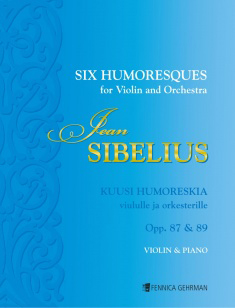 A new edition of the Six Humoresques, Opp. 87 & 89, has been released by Fennica Gehrman. The new edition is for violin and piano, and is based on the Urtext of the orchestral version. The solo part is corrected and amended according to the composer's manuscripts. Misprints and misinterpretations found in earlier editions have been corrected.

Sibelius composed the Humoresques in 1917–18 and, as his biographer Erik Tawast­stjerna observed, they capture 'the lyrical, dancing soul of the violin'. Sibelius himself remarked that they show 'the anguish of existence… fitfully lit up by the sun'. They were originally for violin and orchestra but have also been performed in an earlier piano reduction by Karl Ekman – about which, however, Sibelius wrote: 'The piano arrangemenrs by Karl Ekman are not good. They give a wholly false impression of the Humoresques.'
Rather than using the Ekman version, Jani Kyllönen has made a completely new piano reduction for this edition, following the orchestral texture closely.
ISBN-13: 9790550112742
Price: €38.50
Publisher: Fennica Gehrman
Print year: 2018
Length: 53 pages