Jean Sibelius Complete Works (JSW)
edited by the National Library of Finland and the Sibelius Society of Finland
Series IV (Works for Solo Instruments with Piano, also Arrangements)
Vol. 1: Works for Piano Trio, edited by Anna Pulkkis
SON 631
Price: €252.00
288 pages · ISMN: 979-0-004-80366-0
https://www.breitkopf.com/work/6198/17827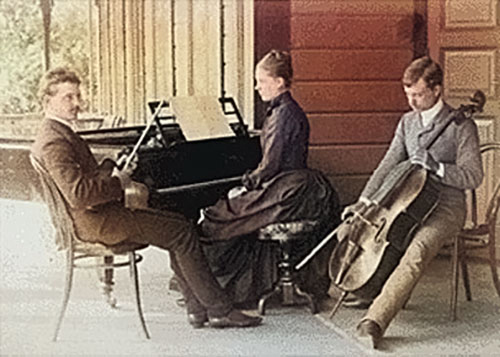 The Sibelius family trio
Photo by Natalia Linsén (1844–1919)
'Why, it was the time when one grew.' (Sibelius to Otto Andersson, about the 1880s when the music in this volume was composed)
Since Sibelius One was founded in 2014, one of the most frequent questions to come our way has been 'When will Sibelius's music for piano trio be published?' To be more precise: these questions have primarily been about the 'Hafträsk' and 'Korpo' Trios, as the 'Lovisa' Trio had already been published by Fennica Gehrman in 2008 and the other works in this new volume have attracted significantly less attention.
Why this interest in the 'Hafträsk' and Korpo' Trios? After all, all the music comes from the early part of Sibelius's career, well before he made his breakthrough with Kullervo in 1892. For decades we have been lectured about the insignificance and poor quality of his music from this period. And worse still, it involves the piano, the instrument for which Sibelius allegedly couldn't write at all.
The simple answer is that those who sought to denigrate this superb music were wrong. What is more worrying is that such opinions gained currency even before the music was studied or performed. For most of their life these pieces have languished in obscurity, the self-critical Sibelius having decided not to risk allowing his youthful inspirations to find a wider audience. Just a few musicologists (Erik Furuhjelm, Otto Andersson) had the chance to discuss this repertoire with the composer himself. Only decades after his death, when his heirs donated the his manuscript collection to Helsinki University Library (now the National Library of Finland), were scholars more easily able to examine and, ultimately, perform the music; and then it immediately became apparent not only how appealing it is but also how important it was for Sibelius's development.
An exception is formed by the 'Lovisa' Trio, the manuscript of which was given to Adolf Paul and eventually made its way to Otto Andersson's Sibelius collections in Turku. It was played several times in Turku in the early 1950s, including at the opening of the new Sibelius Museum premises in 1952. Otherwise performances of this repertoire are striking by their absence; in many cases we do not even know if or when they were performed when they were new, in the 1880s.
This volume is edited by Anna Pulkkis, but special mention should also be made of the contribution by her co-editor Folke Gräsbeck, whose research into the history and whose role in the early performances and first recordings of these pieces cannot be underestimated. The introductory essay contains detailed information about the origins of the music – and, as usual, a very thorough critical commentary detailing editorial decisions and sources, with a number of manuscript facsimiles.
The pieces in this volume were written with Sibelius's family and friends in mind – especially for the family trio in which Janne himself played the violin together with his sister Linda (piano) and brother Christian (cello). The pieces chart Sibelius's rapid development as a composer during the 1880s from an eager composer of dance music to an orchestral genius in waiting: his increasing confidence, growing willingness to experiment with form and improving command of the instrumental forces. The earliest pieces here are for two violins and piano: the Menuetto in F major, JS 126, and the Trio, JS 205. Sibelius was only seventeen when he wrote them in 1883, arguably with more enthusiasm than finesse. It was with the JS 206 Trio, completed the following year, that Sibelius 'found' the standard trio instrumentation of violin, cello and piano, although at least one surviving fragment shows that he had previously experimented with this combination. Its compositional process overlaps with that of the D minor Piano Quartet, JS 157 (as yet unpublished), which may explain its lack of a finale (the third and final movement is a minuet). Though more substantial and focused than the earlier trios, it is still clearly an apprentice work, which works well on its own terms, although one gets the feeling that here Sibelius had to find his own solutions unaided, whereas in the later trios he could draw on greater experience of studying and playing the music of his great European forebears.
The two highlights of this new volume are undoubtedly the 'Hafträsk' and 'Korpo' Trios from Sibelius's summer holidays in 1886 and 1887 respectively, after he had begun his studies at the Helsinki Music Institute, but not composed in any sort of academic environment. Both pieces feature melodic invention of very high quality, the young Sibelius raiding an apparently inexhaustible store of captivating, memorable themes. The mood may be less sombre than in his mature works, but here he is just as much a 'tone painter and poet' as in his later music (to use Sibelius's own phrase, from a letter to his wife Aino in 1894).
'Hafträsk' has four movements, the first of which exists in two versions (both included here). When the Trio was first recorded (with Folke Gräsbeck as pianist, in 2002), there were still numerous question marks concerning the order of manuscript pages and other details in this trio; the versions published here are therefore not the identical to the version on that recording. It is a fine piece, with a robust and skilfully crafted first movement, a slow movement in gentle 9/8 time of exquisite beauty, a lively and compact scherzo and a rondo finale with an unexpected, whimsical conclusion.
It is in the slow movement of the 'Korpo' Trio that Sibelius's aspirations to become a 'tone painter and poet' are most clearly evident: it is a fantasia, Romantic and enigmatic by turns. 'When my big trio is eventually performed,' Sibelius wrote to his uncle Pehr, 'it will take place with tableaux, because otherwise it cannot be understood.' This leads directly into a scherzo-and-trio section, which in turn proceeds without a break into the exuberant finale. The Trio's first movement is also very appealing even if its proportions are slightly unconventional, the (fugal) development section unusually brief.
The high level of quality is maintained in the 'Lovisa' Trio, though it is a much more compact work than either 'Hafträsk' or 'Korpo', and much of its weight is concentrated in the march-like first movement. The intense yet often subtle slow movement leads straight into an infectious, dance-like finale.
Of the remaining shorter pieces, the delightfully sunny Allegro in D major, JS 27, seems to be contemporaneous with the 'Hafträsk' Trio, whilst the Andantino in G minor, JS 43, was possibly destined for inclusion in the 'Korpo' Trio, but then omitted. A second version of the Allegro is included here, although the opening has not survived intact. For those who are familiar with the pioneering recordings of this repertoire by Folke Gräsbeck, Jaakko Kuusisto and Marko Ylönen (BIS), it is worth noting that some of the shorter items on the discs are omitted from the volume, which focuses on works that are beyond doubt complete. Facsimiles of manuscript pages from some of these pieces are, however, included.
This is an important release in the JSW series and it is to be hoped that Breitkopf & Härtel will make performance parts especially for the 'Hafträsk' and 'Korpo' Trios available as soon as possible.
Review by Andrew Barnett & Ian Maxwell.
Review copy kindly supplied by Breitkopf & Härtel