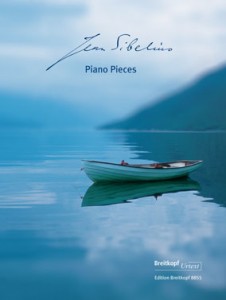 The ground-breaking critical edition Jean Sibelius Werke published by Breitkopf & Härtel is continuing. Most recently published is the Violin Concerto, ed. by editor-in-chief Timo Virtanen. This volume contains the two versions of the famous concerto (SON 622, EUR 252.00).
Plans for 2015 are as follows:
In March 2015 a volume of selected piano pieces will appear, drawn from the Sibelius Piano Works, ed. by Kari Kilpeläinen and Anna Pulkkis (EB 8855, EUR 15.90).
In April 2015 a special volume will be issued: a full-colour facsimile reproduction of Luonnotar (score and piano-vocal reduction) – a composition which counts among the most modern works by Sibelius. The editor is Timo Virtanen (SON 626, EUR 79.00 – introduction price valid until 8th December, 2015!).
A new 'Breitkopf Study Score' will feature the long-neglected orchestral work Skogsrået (The Wood-Nymph) (PB 5564). This will be its first publication apart from the volume of the Complete Edition, ed. by Tuija Wicklund.
Further volumes of the Complete Edition are scheduled in 2015:
– Piano Works 4 (Works without opus numbers), ed. by Anna Pulkkis (SON 623)
– Works for Male Choir a cappella, ed. by Sakari Ylivuori (SON 624)
– Scènes historiques I, Op. 25 and II. Op. 66, ed. by Kari Kilpeläinen (SON 625).
Source: Breitkopf & Härtel