The young Sibelius was inspired by the archipelago landscape
The 22nd 'Sibelius i Korpo' Festival will take place on 14–16 July 2023.
The theme of this year's festival is 'Sibelius in his composition workshop'. In addition, the music selected marks the 200th anniversary of the birth of Édouard Lalo and the 150th anniversary of the birth of Sergei Rachmaninov.
On Friday 14 July there will be two evening concerts at Korpo gård, the first (6 pm) featuring Sibelius's suite to Belshazzar's Feast, and the second (8 pm) with the title 'Valse triste by night'.
On Saturday 15 July there will be an afternoon concert (3 pm) on the island of Norrskata, with Sibelius's 'Hafträsk' Trio, which was composed on that island in 1886. This will be followed by an evening concert at Korpo gård (6 pm) including music for violin and piano, the Op. 75 piano pieces ('The Trees') and musical fragments associated with the lost Eighth Symphony. The Symphony will also be the subject of a panel discussion.
On Sunday 16 July there will be the traditional celebratory address at the Sibelius monument in the centre of Korpo village (12 noon), followed by a concluding concert at Korpo gård including more music for violin and piano, a talk by Satu Jalas and the piano version of Finlandia.
The festival's general manager is Petri Kirkkomäki, and its artistic director is Sibelius One president Folke Gräsbeck.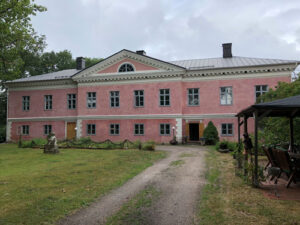 ---
Performers this year:
Satu Jalas, violin (Sibelius's granddaughter)
Fenella Humphreys, violin
Olivier Pons, violin
Helen Lindén-Pons, cello
Folke Gräsbeck, piano
Joseph Tong, piano
Petri Kirkkomäki, baritone
In addition, Sibelius One's general manager Andrew Barnell will speak about the 'Hafträsk' Trio.
---
Provisional list of works to be performed:
Friday 14 July (6 pm)
Jean Sibelius
Belshazzar's Feast, Suite, for piano
Édouard Lalo
Cello Concerto: Prélude. Lento – Allegro maestoso, for cello and piano
Jean Sibelius
Scène d'amour from Scaramouche for violin and piano
Cantique for cello and piano
Valse lyrique (arr. Emil Kauppi) for piano trio
Novellette for violin and piano
Four pieces from The Tempest for piano
---
Friday 14 July (8 pm)
Edvard Grieg
Violin Sonata No. 2
Jean Sibelius
Tempo di valse, JS 2, for piano
Tempo di valse, JS 193 (reconstructed by Kalevi Aho), for cello & piano
Trånaden, JS 203, for piano
Valse triste for piano
---
Saturday 15 July (3 pm)
Jean Sibelius
Menuetto in D minor for violin and piano
'Hafträsk' Trio
Impromptus Nos 1 & 2 for piano
Édouard Lalo
Symphonie espagnole: I. Allegro non troppo; IV. Andante
for violin and piano
Sergei Rachmaninov
Trio élégiaque
---
Saturday 15 July (6 pm)
Jean Sibelius
Four Pieces, Op. 78, for violin and piano
Five Pieces, Op. 75 ('The Trees') for piano
Five Pieces, Op. 81, for violin and piano
Fragments associated with Symphony No. 8, and panel dicussion
Landscape II, two sketches (1928–29) for piano
Song in the Forest, Op. 114 No. 4 (1929, first version) for piano, world premiere
Four Pieces, Op. 115, for violin and piano
Three Pieces, Op. 116, for violin and piano
---
Sunday 16 July (12 noon)
Celebratory address with Petri Kirkkomäki (who will also song) and Andrew Barnett

---
Sunday 16 July (3 pm)
Jean Sibelius
'Korpo' Trio (movements 2 & 3)
Tanz-Idyll, Op. 79 No.5
Humoresques Nos 4 & 5 (arr. Karl Ekman)
Three excerpts from 'A Catalogue of Themes' for piano
Suite in E major for violin and piano
Andante cantabile for violin and piano
Finlandia for piano
Click here for the Festival's website (currently being updated)