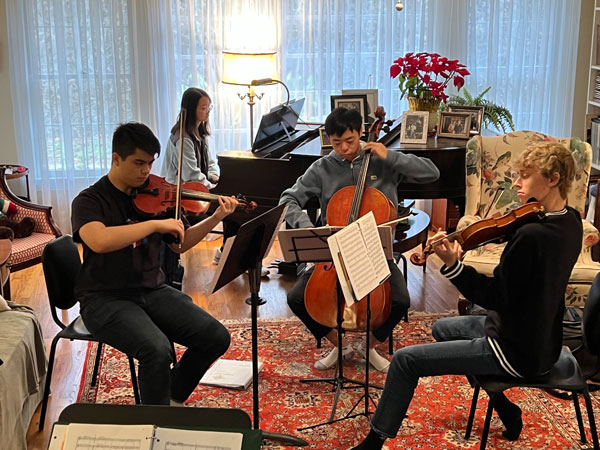 The Varro Quartet (photo: © Ching Ching Yap)
The Varro Quartet was formed by four young musicians from Georgia: Didi Stone (violin), Lucas Nyman (violin), Richard Wang (cello) and Erin Li (Piano) for the Franklin Pond Chamber Music 'Fall into Spring' Pro­gram. Franklin Pond Chamber Music is an organization that provides training for young musicians year-round to learn and perform chamber music.
Having secured permission from the Sibelius family, the Varro Quartet will perform Sibelius's early and rarely heard Piano Quartet (1884) for the final concert of the Franklin Pond Chamber Music Program on 30 April 2023 – the first performance of the work in the USA. It may also be played this piece in the context of the Franklin Pond Chamber Music Com­pe­tition in May 2023.
A complete performance of the Piano Quartet by these performers can meanwhile be found on YouTube:
Quartet in D minor, JS 157, for two violins, cello and piano (1884)
I. Andante molto – Allegro moderato [11'51]: https://youtu.be/mSDkvs3KIzY
II. Adagio [6'49]: https://youtu.be/OHjJx82iDtA
III. Menuetto [4'43]: https://youtu.be/Jas1Es4UK2o
IV. Grave – Rondo. Vivacissimo [8'40]: https://youtu.be/3Dfi_5A9u9A
Further information about the Varro Quartet and this project can be found in the current issue of the Sibelius One magazine.