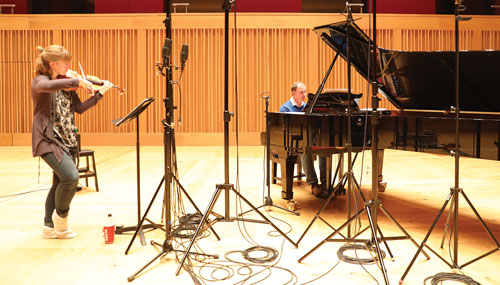 Fenella Humphreys and Joseph Tong recording
music by Sibelius in 2020. Photo: © Dave Rowell
Fenella Humphreys and Joseph Tong will include a number of works by Sibelius in their recital at York University on Wednesday 22 February 2023 at 7.30pm.
Sibelius   Five Pieces for violin and piano, Op. 81
Cheryl Frances-Hoad   Sonatina
Sibelius   Four Pieces for violin and piano, Op. 115
Rautavaara   Summer Thoughts
Sibelius   Danses champêtres, Op. 106
Ravel   Sonata No. 2
Fenella Humphreys  violin
Joseph Tong  piano
Venue: Sir Jack Lyons Concert Hall, Campus West, University of York
Winner of the BBC Music Magazine Instrumental Award in 2018, Fenella Humphreys is admired by audiences the world over for the grace and intensity of her playing. She is joined by renowned British pianist Joseph Tong in a programme featuring some of Sibelius's best-loved works for violin and piano. 'Album of the Weekend' on Scala Radio and 'Chamber Choice' in the March 2022 edition of BBC Music Magazine, the duo's recent recording of these works has garnered widespread critical acclaim [click here for more information about the recording]. Alongside these charmful and inventive examples of Sibelius' chamber music, their programme also includes Ravel's jazz-infused Sonata in G major, Rautavaara's romantic Summer Thoughts and the dynamic and charismatic Sonatina by former winner of the BBC Young Composer of the Year Competition Cheryl Frances-Hoad.