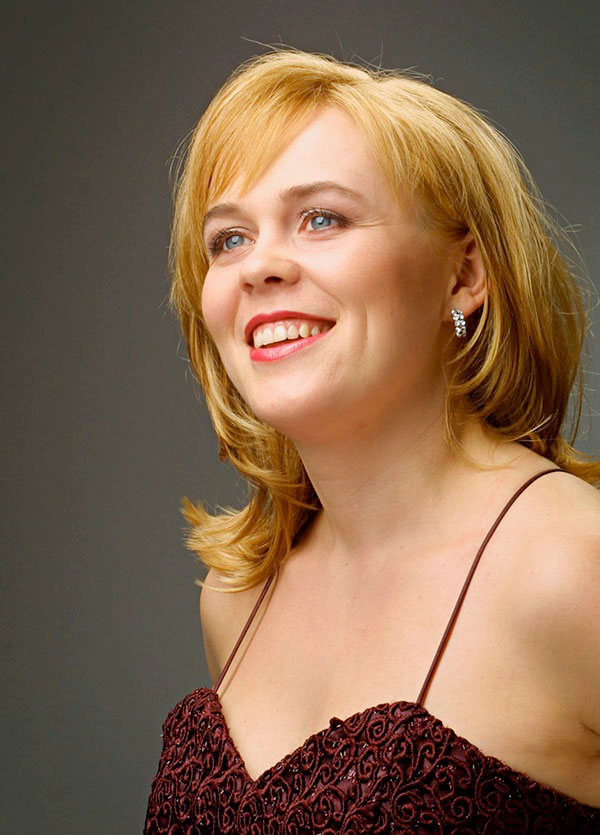 Two concerts featuring the Finnish soprano Mia Huhta will take place in London to mark the 150th anniversary of Sibelius's birth, at Holy Trinity Church, Prince Consort Road, South Kensington.
First there will be an all-Sibelius concert on 6th December 2015 (Finnish Independence Day) at 6.30 pm. This will feature I Maestri Orchestra, conducted by Miguel Esteban & George Hlawiczka, and Mia Huhta will be the soloist in Luonnotar.
A second concert will take place in the same venue on 10th December at 7 pm. This will be a chamber concert at which Mia Huhta will be joined by Beatrice Philips (violin), Kati Raitinen (cello) and Bengt Forsberg (piano). Works to be performed include the Theme and Variations for solo cello (JS 195), Malinconia and Sibelius's own piano arrangement of Finlandia.
Mia Huhta remarks: 'For a long time my dream has been to give a recital in London that combines the musical legacy of Jean Sibelius and great chamber musicians. For Finland Sibelius was in his lifetime – and still is – a national treasure. We have chosen a wonderful collection of works by Sibelius. Songs represent a far more important side of his creative activity than is generally appreciated. The violin was his own instrument and his brother
Christian played the cello, which is a natural reason for very intimate and also experimental expression.'
Mia Huhta began her studies in classical singing in the Conservatory of Ostrobothnia in Kokkola, Finland, continuing at the Sibelius Academy in Helsinki. She has participated in numerous song competitions both in Finland and abroad; she has won the Vox Unica, Kangasniemi and Pentti Koskimies competitions and gained a special prize in the Lappeenranta song contest in 1996 and 1999. Both at the Wigmore Hall competition in London and at the Queen Sonja competition in Norway she reached the semi-finals. She works regularly with major Finnish orchestras and conductors and is often heard in opera. She has given many premières of Finnish vocal works, including Mikko Heiniö's church opera Riddaren och Draken (The Knight and the Dragon), P.H. Nordgren's Te Deum, Paavo Heininen's Suomalainen laulukirja (Finnish songbook), Lotta Wennäkoski's Ilta hurmaunut and Eero Hämeenniemi's Laulun synty. She has also recorded extensively.
Listen to Mia Huhta singing Sibelius's Säv, säv susa: click here.
I Maestri is a unique organisation that helps talented young conductors hone their skills through a programme of workshops, masterclasses and public concerts. 
Created in London in 2001 by music director George Hlawiczka and with the help of their patrons, Sir Neville Marriner and Jorma Panula, I Maestri enables conductors to work with professional musicians drawn from the ranks of the London orchestras, chamber ensembles and music colleges. Its inspiration was the Helsinki conducting academy under Jorma Panula and the Pierre Monteux Academy, where generations of conductors were nurtured because of having 'an instrument' to work with on a regular basis. The orchestra is also open to excellent amateur musicians who have the opportunity to play next to expert colleagues.
Bengt Forsberg is one of Sweden's leading musicians, with a busy career encompassing solo piano performance, chamber music, conducting and piano accompaniment. He has maintained a long-standing musical partnership with the mezzo-soprano Anne Sofie von Otter, resulting in many recordings including songs by Sibelius for the BIS complete Sibelius project.
Kati Raitinen has been solo cellist of the Royal Swedish Opera since 1995. She is an active chamber musician and with her string trio she has recently won the interpretation prize from the Swedish Royal Music Academy, given by the King of Sweden.
Beatrice Philips enjoys a busy freelance life as a chamber musician, soloist, orchestral player, leader and teacher. She is founder and artistic director of the Lewes Chamber Music Festival. She has played at numerous festivals, has broadcast on BBC Radio 3 and plays regularly with many leading ensembles in London.
Programme, 6th December:
Karelia Suite, Op. 11
Luonnotar, Op. 70
The Swan of Tuonela and Lemminkäinen's Return from 'Lemminkäinen', Op. 22
Symphony No. 3 in C major, Op. 52
Finlandia, Op. 26
Venue:
Holy Trinity Church, Prince Consort Road, South Kensington, London SW7 2BA
Orchestral concert: 6th December 2015, 6.30 pm
Chamber concert: 10th December 2015, 7 pm