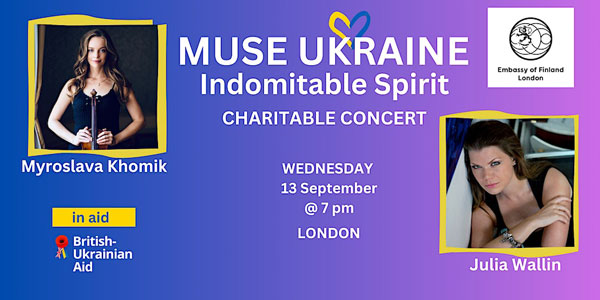 The Finnish Embassy is hosting a charitable concert in co-operation with British-Ukrainian Aid.
Date / Time / Venue:
13 September 2023, 19:00, Finnish Ambassador's Residence,
14 Kensington Palace Gardens, London W8 4QP, London
'Muse Ukraine: Indomitable Spirit' will highlight the musical and cultural heritage of Ukraine, as performed by Ukrainian-American violinist Myroslava Khomik and Finnish-British pianist Julia Wallin, who believe that the power of music can serve as the best communicative tool in most challenging times. The programme will include musuc by Sibelius and long-lost Ukrainian gems
All proceeds from the concert will be donated to British-Ukrainian Aid to support relief and rescue operations in Ukraine.