Breitkopf & Härtel has issued more works by Sibelius as separate publications based on existing volumes in the acclaimed JSW critical edition.
Each new issue includes a thorough introductory essay in German and English and the newly edited Urtext of the full score itself, but not the facsimile photos and extensive critical comments of the full editions.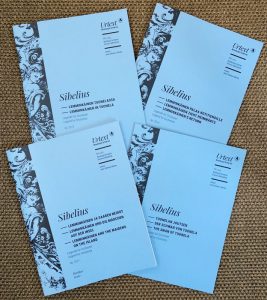 The four Lemminkäinen tone poems (Op. 22) are all here presented, edited by Tuija Wicklund. Here we have the standard, final versions of each piece (early versions, where available, are available in the full hardback JSW edition: SON 618). After the first performances in 1896 and 1897, Sibelius soon revised The Swan of Tuonela (which was soon to become very popular) and Lemminkäinen's Return for publication, but left the two other pieces unissued for nearly forty years before giving them a final revision. The entire cycle in its definitive version was published in 1954.
The final versions are all included in the hardback volume SON 619. Orchestral parts are available as hire material.
Another work from the same year as the original Lemminkäinen, 1896, and bearing an adjacent opus number (Op. 21) is the hymn Natus in curas for male choir a cappella, and the Urtext of this piece too has been issued separately. It was composed for the unveiling of a monument and has a Latin text by Fridolf Gustafsson (1853–1924), professor at Helsinki University. The work was included in a choral collection published in 1899, for which Sibelius made small revisions. This version was published in the JSW Complete Edition (SON 624), edited by Sakari Ylivuori, from which the new volume is extracted.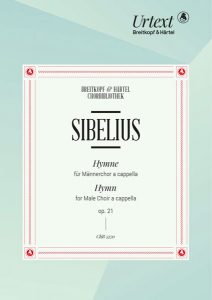 Click below for more information and orders:
Lemminkäinen and the Maidens on the Island: PB 5582, ISMN: 979-0-004-21392-6, €51.90
The Swan of Tuonela: PB 5583, ISMN: 979-0-004-21393-3, €18.90
Lemminkäinen in Tuonela: PB 5584, ISMN: 979-0-004-21394-0, €38.90
Lemminkäinen's Return: PB 5585, ISMN: 979-0-004-21395-7, €41.90
Hymn 'Natus in curas': ChB 5370, ISMN: 979-0-004-41300-5, €3.20