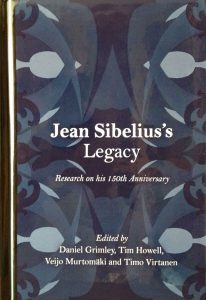 A new book, Jean Sibelius's Legacy – Research on his 150th Anniversary (ed. Daniel Grimley, Tim Howell, Veijo Murtomäki & Timo Virtanen), has been published by Cambridge Scholars Publishing.
As part of the Sibelius 150th anniversary celebrations in 2015, a great number of Sibelius scholars gathered in Hämeenlinna, his birth town, for a conference leading up to his birthday on 8 December. This volume draws upon the most current achievements of Sibelius research. It brings together the diverse – and sometimes even divergent – viewpoints that emerged from this international meeting.
These studies cover all of the genres in Sibelius' production: orchestral works, incidental music, piano and chamber music, and songs, including both well-known works and rarities, and even some fresh discoveries. The chapters in this book are also a welcome reminder of the manifold sources of inspiration: the music of his contemporaries, nature, literature, and visual art. The versatility of Sibelius's output, and the richness of his creative imagination are presented here to any reader interested to learn more about the music of the Finnish master.
Contributors: Ilkka Oramo, Veijo Murtomäki, Jorma Daniel Lünenbürger, Martti Laitinen, Vesa Kurkela, Kaarina Kilpiö, Timothy L. Jackson, Juhani Alesaro, Sanna Iitti, Tim Howell, Benjamin T. Hilger, Pekka Helasvuo, Olli Heikkinen, Charris Efthimiou, Gustav Djupsjöbacka, Les Black, Barry Wiener, Tuija Wicklund, Ron Weidberg, Olli Väisälä, Timo Virtanen, Helena Tyrväinen, Aare Tool, Ferruccio Tammaro, Lauri Suurpää, Anna Pulkkis
Hardback, 360 pages / ISBN-13: 978-1-4438-9860-7 / ISBN-10: 1-4438-9860-0
More information and orders: click here.
Save