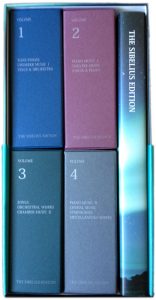 A limited-edition complete boxed set of the BIS Sibelius Edition has been issued by King International in Japan.
The set includes all 69 original CDs plus a bonus disc of items that have come to light since the thirteenth and final volume of the Edition was issued in 2011 (these newer recordings are available internationally on BIS-2065 and BIS-2132).
The discs are accompanied by a large book (over 400 pages) including track listings, notes, artist biographies and song texts with Japanese translations.
The set can be ordered online – click here for the order page (in Japanese).
Save
Save
Save
Save
Save
Save
Save
Save
Save