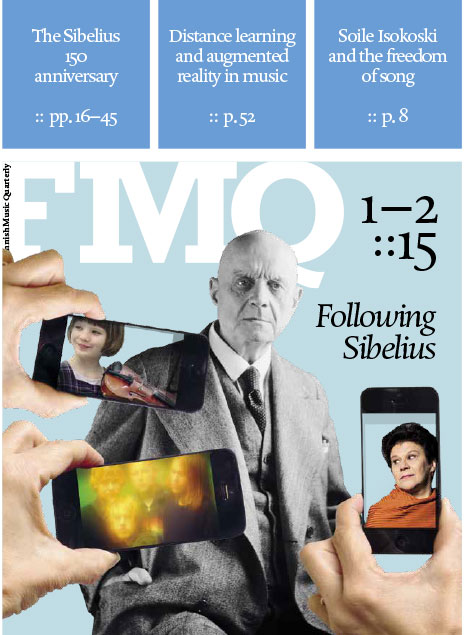 Finnish Music Quarterly (FMQ) magazine has produced a special issue dedicated to the Sibelius 150 anniversary. In this issue (to quote the Editorial): 'We take a look, among other things, at the political and politicised Sibelius and his role in shaping what came to be perceived as our national musical language. We also explore new approaches to individual works. Yet at the same time we aim to reach beyond the historical figure and the myth to address today's world and the future. What should we do to nourish and nurture this musical legacy for following generations?…'
FMQ has been a showcase in English for Finnish musical culture since 1985, keeping track of what is happening in Finland. Readers of the magazine will find information about Finnish music past, present and future. The FMQ is published by Music Finland, and its partners are the Sibelius Academy, the Society of Finnish Composers and the Finnish Musicians' Union.
Contents of the Sibelius issue:
The freedom of song (on Soile Isokoski) – Hanna Isolammi
'Utterly Finnish, peculiarly original' (on the birth of 'Finnish' musical language) – Olli Heikkinen
A visit from Mr Composer (on what happened when Jean Sibelius and Larin Paraske met) – Ilona Korhonen
The responsibility of an artist (on Sibelius as political figure) – Veijo Murtomäki
Patriotic soundtracks (on Sibelius's music in propaganda and educational films) – Kaarina Kilpiö
Paths for the Sibelius tourist (on Sibelius sights) – Tove Djupsjöbacka
Taking note: Content with content – Lotta Wennäkoski
'Struggling artist like the rest of us' (on Sibelius viewed from outside the classical music tradition) – Andrew Mellor
Sibelius's music in focus (on recent Sibelius research) – Anna Pulkkis, Tuija Wicklund, Sakari Ylivuori
Does Finland need a new Sibelius? (on how to be happy musically) – Tomi Mäkelä
Art comes first (on the present and future of the Sibelius Academy) – Amanda Kauranne
Notes & Letters: The unbearable lightness of uncertainty – Jussi Frederiksson
Broader perspectives in teaching music (on distance-learning projects for children) – Elina Roms
Augmented music (on Finnish combinations of music and new media) – Heidi Horila
Most of the articles can be read online; please open this link and click the year 2015, and you will find links to the single articles.
Members of Sibelius One may purchase printed copies of this special issue of FMQ for the price of £8.00 including postage. This offer runs until 30th August 2015, and the magazines will be sent at the beginning of September.
To order your copy, please send an e-mail to gm@sibeliusone.com.
Payment can be made via internet banking to Sibelius One's account:
Sort code 54-10-27 / Account number 13655558
For international payments: Swift code NWBKGB2L / IBAN: GB88NWBK54102713655558
Internet banking payments must arrive by Sunday 30th August at the  latest.
Payment can also be made by UK sterling cheque (sorry no international cheques) made payable to Sibelius One and sent to the Treasurer, Sibelius One, 'Ainola', 5 The Avenue, Basford, Newcastle-under-Lyme, Staffs. ST5 0ND. Cheques must arrive by Thursday 27th August at the  latest.