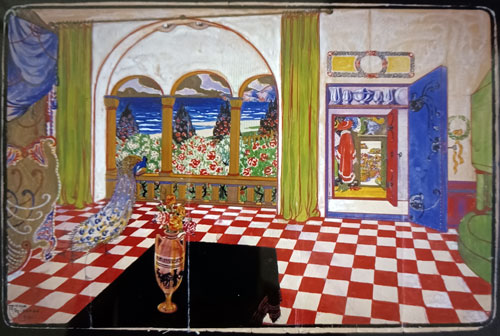 Sketch for Swanwhite made in 1901 by Arthur Sjögren (1874–1951)
Nordiska museets arkiv. CC BY-NC-ND-4.0. Image straightened.
Eija Kurki's article 'Sibelius's Swanwhite – the original incidental music' is now available to read or download on this website. The article discusses the context of the music, its location and function within Strindberg's play and the orchestral suite.
Eija Kurki published her dissertation Satua, kuolemaa ja eksotiikkaa. Jean Sibeliuksen vuosisadan alun näyttämömusiikkiteokset (Fairy-tale, Death and Exoticism. Jean Sibelius's Theatre Music from the Beginning of the 20th Century) in 1997. She has written numerous articles in various specialist publications both in Finland and internationally. This article is based on her Master's degree in musicology and theatre research at Helsinki University in 1994, 'August Strindbergin ja Jean Sibeliuksen Joutsikki' ('Swanwhite by August Strindberg and Jean Sibelius').