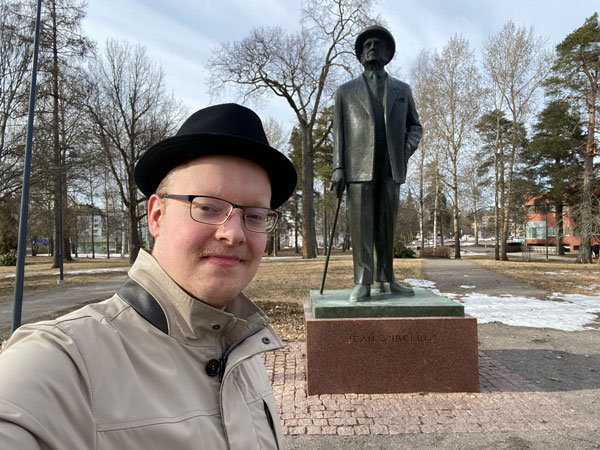 Luukas Hiltunen in Järvenpää
Photo: © Luukas Hiltunen
The first performance of Luukas Hiltunen's Sibelius-inspired symphony took place on 18 April 2022. It was played by Sinfoniaorkesteri Vivo (the National Youth Symphony Orchestra of Finland) under its chief conductor Erkki Lasonpalo at the Järvenpää Hall.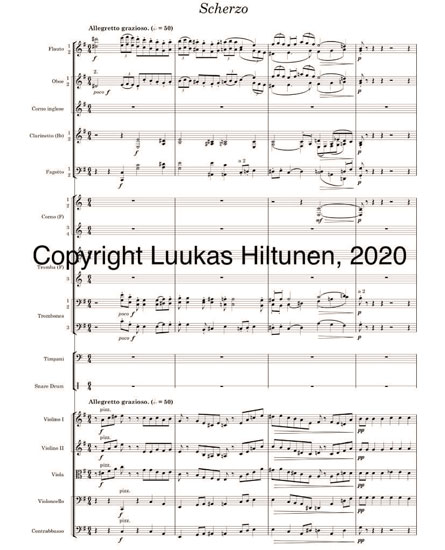 Luukas Hiltunen took almost eighteen months to complete his Symphony No. 1 for full orchestra, finishing it in June 2020. The score consists of 72 pages, and the work plays for approx. 30 minutes. There are three movements: an Andante espressivo first movement in A minor, a scherzo (Allegretto grazioso) with trio (Moderato assai e sempre espressivo), and an extensive finale (Andante sostenuto). It is scored for 2 flutes (both doubling piccolos), 2 oboes, cor anglais, 2 bassoons, contrabassoon, 4 horns, 3 trumpets, 3 trombones, timpani, percussion (snare drum, cymbals and bass drum), harp and strings.
Luukas Hiltunen has listened to the music of Sibelius ever since he was a small boy, and has become familiar with his style of writing music for orchestra. 'I'm very proud of the finale, it's definitely the most advanced and complex musical structure I have written so far', writes Hiltunen, describing it as 'a musical journey from darkness to light, ending up with a solemn hymn [an original composition, not an arrangement]… an uninterrupted 15-minute whole, almost like a tone poem inside a symphony, without any external source of inspiration. Therefore it comes very close to Sibelius's En saga, I think; it creates a unique and every time a different imaginary musical journey, a metamorphosis full of themes that develop and continue imperceptibly, with logical transitions between recognizable states of mind (leitmotifs).' The music is very approachable; Sibelian touches include the use of triplets, syncopated horn writing and the ways he uses the lower strings, and the work has a noticeably melancholic Finnish character, although it does not make use of direct quotations from folk music.
Luukas Hiltunen has previously made arrangements for symphony orchestra of Sibelius's organ works Intrada and Surusoitto, and a string quartet version of the Scène d'amour from Scaramouche.
Facebook: https://facebook.com/luukashiltunenmusician
Instagram: luukas_hiltunen_musician
Music publisher (Symphony): Universal Edition, https://www.universaledition.com/luukas-hiltunen-7879/works/symphony-no-1-30501
Music publisher (Scène d'amour): Edition Wilhelm Hansen Copenhagen