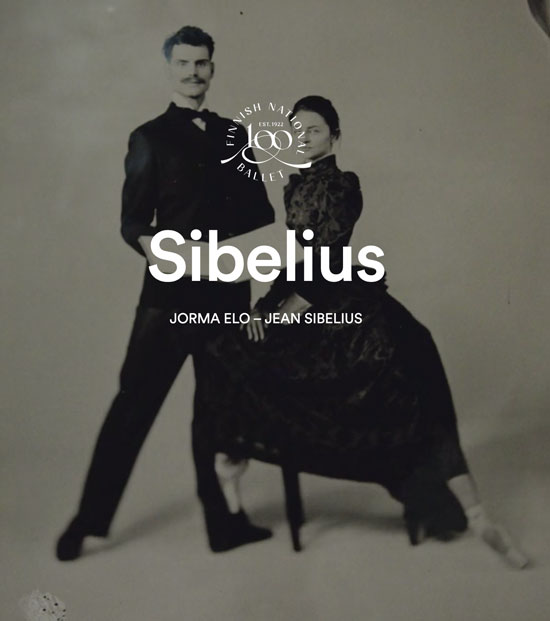 Image from the Finnish National Opera and Ballet's website
Choreographer Jorma Elo's ballet Sibelius will be performed by the Finnish National Opera and Ballet in March–May 2022, conducted by Olari Elts. The Finnish National Ballet is celebrating its centenary in 2022, and this production at the Opera House in Helsinki forms part of its centenary programme.
According to the Finnish National Opera and Ballet's website, 'Jorma Elo's new ballet is about Jean Sibelius and his creativity, which inspires him to push forward. Nevertheless, his life wouldn't be possible without Aino – her love, creativity and understanding. Though Jean is the main character, the story is both Aino's and Jean's. Their love is at the heart of the ballet, and the audience is shown each character's point of view. Aino and Jean's burning love and passion is a constant through the decades, in spite of the obstacles… Jorma Elo explored Sibelius's work in depth to find the most suitable music for his ballet. Excerpts from several different pieces come together beautifully in a score that follows the composer's life. Sibelius's compositions for the stage, which are particularly fitting to the story, are complemented by pieces close to Elo's heart, such as the Violin Concerto, Symphony No. 5 and Finlandia.'
The ballet traces key moments throughout Sibelius's long life. A degree of artistic licence has, however, heen applied to some of the events portrayed.
Choreographer Jorma Elo was born in Helsinki in 1961 and danced with the Finnish National Ballet from 1978 to 1984. He made his début as a choreographer in 2000 with The View from Over Here and Blank Snow (Alberta Ballet). Since 2004 he has worked in the USA, becoming a resident in 2010. In 2005 he was appointed as resident choreographer of Boston Ballet. Other companies with which he has worked include the New York City Ballet, San Francisco Ballet, Royal Danish Ballet, Nederlands Dans Theater, Vienna State Opera Ballet and Finnish National Ballet.
Sets and costumes are by the American designer Robert Perdziola, inspired by the paintings of Aino Sibelius's brother Eero Järnefelt and photos of early 20th century Helsinki. The role of Jean is danced by Tuukka Piitulainen, Michal Krčmář and Henry Grey; Aino is portrayed by Rebecca King, Abigail Sheppard and Violetta Keller.
A total of nine performances are scheduled between 11 March and 14 May.
The ballet's duration is two and a half hours (including intermission) and ticket prices range from  €20 to €129.