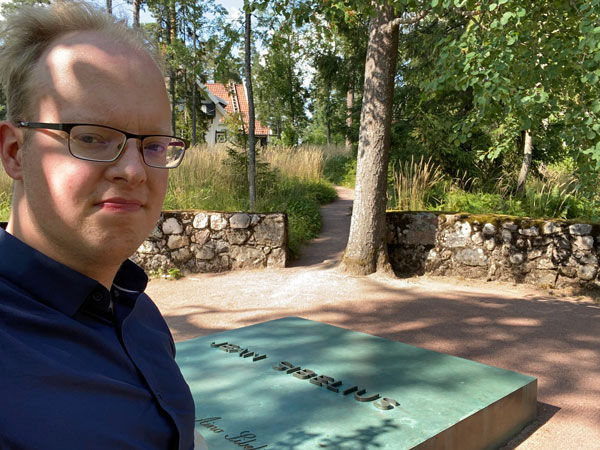 Luukas Hiltunen by Sibelius's grave at Ainola
The arrangement by Luukas Hiltunen of the Scène d'amour from Sibelius's ballet-pantomime Scaramouche has been played at a concert at the composer's home, Ainola. The performance, on 26 July 2021, was given by the Kamus String Quartet (Terhi Paldanius and Jukka Untamala, violins; Jussi Tuhkanen, viola; Petja Kainulainen, cello) as part of 'Meidän Festivaali' ('Our Festival').
Scaramouche is one of the longest and most unusual of Sibelius's large-scale scores, and the composer himself made piano arrangements of two passages (Danse élégiaque and Scène d'amour) and a violin/piano version of the Scène d'amour.
Luukas Hiltunen has previously made arrangements for symphony orchestra of Sibelius's organ works Intrada and Surusoitto, and his First Symphony (2019–20) reflects his familiarity with Sibelius's style of writing music for orchestra.
Previous performances of this arrangement have taken place on 23 March 2018 at the Church of the Cross, Lahti, Finland (Lahti Conservatory String Quartet), 21 July 2019 at the Sibelius Hall, Lahti (string quartet from Orkester Norden) and 1 May 2021 at Korundi House of Culture, Rovaniemi (Lapland Chamber Orchestra).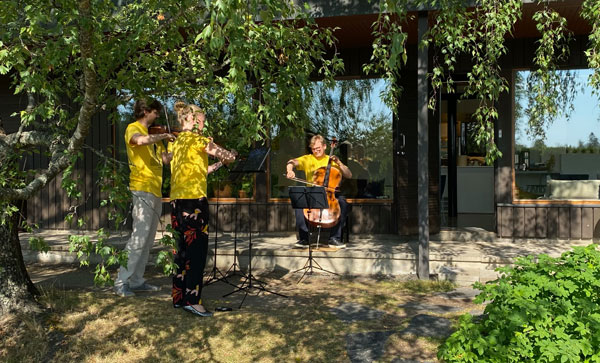 Members of the Kamus Quartet at Ainola's Cafe Aulis
For more information about Scaramouche click here to read or download Eija Kurki's in-depth article.
Facebook: https://facebook.com/luukashiltunenmusician
Instagram: luukas_hiltunen_musician
Music publisher (Scène d'amour): Edition Wilhelm Hansen Copenhagen (product link: click here)
Photos © Luukas Hiltunen