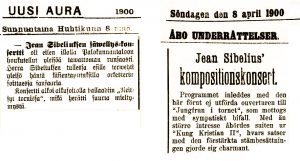 On 23 May 2021 the Avanti! Chamber Orchestra under Tuomas Hannikainen performed Sibelius's 12-minute Concert Overture, consisting of material from the opera Jungfrun i tornet (The Maiden in the Tower), at Helsinki's Ritarihuone. The work was last heard in April 1900 in Turku, conducted by the composer. The reviewer of Uusi Aura called the piece a 'ballad' that 'attracted much attention'; his colleague in Åbo Underrättelser mentioned that the piece had not been performed in Turku before, and was received with 'sympathetic applause'.
Previously it has been assumed that the overture performed in Turku was just the orchestral introduction to the opera, some three minutes of music that lack an effective concert ending. When examining the original manuscript, however, Hannikainen became curious about some markings and changes, apparently in Sibelius's handwriting. Through extensive research into the manuscript and other sources he was able to reconstruct the longer overture, i.e. the Concert Overture, which incorporates material from various different places in the opera.
Among the other music in the concert were Sibelius's suite from Belshazzar's Feast and the melodrama The Countess's Portrait.
The concert can be heard here: https://areena.yle.fi/audio/1-50799742, and a video recording of the Concert Overture can be seen on the orchestra's YouTube channel.
The score is being published by Fennica Gehrman, and performance materials will be available for hire (hire@fennicagehrman.fi).