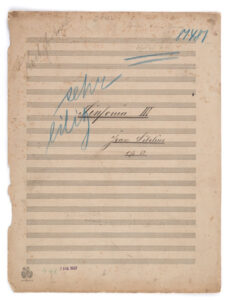 Title page of the Third Symphony
The National Library of Finland, home to the world's largest treasury of Sibelius manuscripts, has acquired a further significant collection.
The new additions include assorted manuscripts for nine works. The material is over 1,230 pages long, and comes from the German publishing house Lienau, which published a number of major works by Sibelius in the first decade of the 20th century, including the Violin Concerto, Third Symphony, the symphonic poems Pohjola's Daughter and Night Ride and Sunrise, and the Voces intimae string quartet. The material now acquired includes manuscripts of all these works, except Pohjola's Daughter, the manuscript of which was sold at auction in 2016.
At the core of the collection are fair copies of major scores in Sibelius's own hand. These include Voces intimae, the incidental music for Strindberg's play Svanevit (Swanwhite) and the Eight Josephson Songs, Op. 57. The material reveals how much of a piano four-hands arrangement of the Third Symphony was by the Russian-born Swiss composer Paul Juon and how much was done by Sibelius himself. There is also the score that Richard Strauss used to conduct the première of the revised version of the Violin Concerto in Berlin in 1905, including markings made by Strauss in pencil.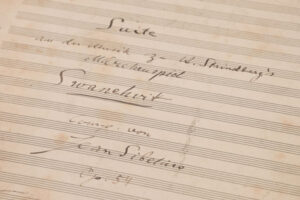 Title page of the incidental music for 'Swanwhite'
The manuscript material is crucial for research as well as being a valuable cultural and national heritage. At present, no permits are issued for the export of Sibelius manuscripts from Finland. At the National Library, the material is kept in ideal conditions for current and future generations of researchers and musicians.
Professor Timo Virtanen, editor-in-chief of the Jean Sibelius Works (JSW) critical edition based at the National Library, remarks: 'Sibelius's manuscripts attract researchers and musicians from all over the world to the National Library; they are an inexhaustible source of research information and inspiration. We researchers are grateful to all those who made it possible to save the manuscript collection for Finland.' The acquisition was made possible in part through grants and donations, for example from the the Ella & Georg Ehrnrooth Foundation, the Louise and Göran Ehrnrooth Foundation and Elsa Fromond, as well as three other private sponsors.
Source (text and images): National Library of Finland
Information in Finnish and link to more images: click here