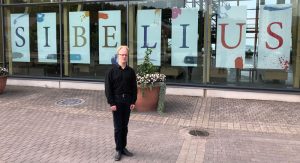 The world première performance of a new arrangement by Lahti music student Luukas Hiltunen of Sibelius's Intrada for organ, Op. 111a (1925), was given as an encore on the last night of the 2018 Sibelius Festival in Lahti (8 September 2018).
This sonorous and well-received arrangement was scored for full symphony orchestra (without percussion), and is dedicated to its performers, the Lahti Symphony Orchestra and conductor Dima Slobodeniouk.
Luukas Hiltunen has also made an arrangement of the companion organ piece, Surusoitto (Funeral Music).
Further information will be published in the January 2019 issue of Sibelius One's magazine.