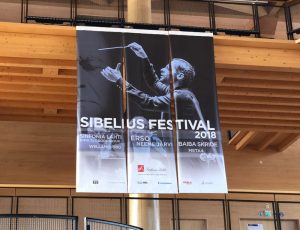 Sibelius One's visit to the 2018 Lahti Sibelius Festival has just ended (posted on 10 September 2018). All events were well attended and enthusiastically received.
Highlights included:
Wednesday 5 September: trip to Hämeenlinna; reception hosted by Erkki Korhonen and the Hämeenlinna Sibelius Society at the Town Hall; visit to the new Sibelius Forest national park.
Thursday 6 September: trip to Ainola; Sibelius One's AGM in Hesan kamari at Ainola (minutes and accounts will be made available soon); concert by the Lahti SO/Dima Slobodeniouk with Baiba Skride, violin (Overture in A minor; Violin Concerto; Swanwhite); concert by the Wellamo Trio ('Hafträsk' Trio). Review of the concerts (Bachtrack): click here.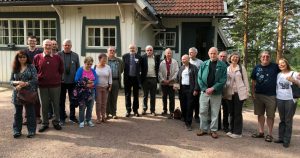 Friday 7 September: concert by the Estonian National SO/Neeme Järvi (Romance in C; Scene with Cranes & Valse triste; Symphonies 3 & 4); reception hosted by the Sibelius Society of Finland at the Sibelius Hall in Lahti.
Saturday 8 September: concert by Meta4 string quartet (Voces intimae); concert by the Lahti SO/Dima Slobodeniouk with Baiba Skride, violin (In memoriam; Six Humoresques; Symphonies 6+7); world première [encore] performance of a new orchestration by Lahti music student Luukas Hiltunen of the Intrada, Op. 111a;  group meal at El Toro restaurant
Sunday 9 September: performance of the Five Piano Pieces ('The Trees'), Op. 75 and of the Violin Concerto with additional choreography (Minna Pensola / Heini Kärkkäinen)
Provisional dates for the 2019 festival: 5–8 September. More details will be posted later.