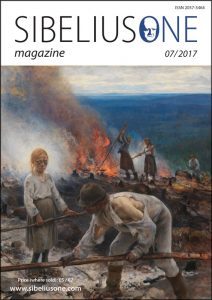 Sibelius One's July 2017 magazine is now being delivered to subscribers. Highlights of this issue include:
My name is Sibelius, Jean Sibelius  David Revilla Velasco
Aspects of Leopold Stokowski in Philadelphia  John Davis
'Now I'm off to the Kämp again': Celebrating 130 years of Sibelius's favourite watering hole  Andrew Barnett
Reputation and Art: Sibelius during the Great War Period  Guy Rickards 
Northern Exposure: The Symphonies of Sibelius (Part One)  Leon Chia
To subscribe to the magazine, make sure you select the 'printed copies' option when joining Sibelius One (just £5 for two issues).
If you would like to add the magazine to your existing subscription, or to purchase individual copies of this issue or back issues (£5 each plus postage – also available to non-members) please contact info@sibeliusone.com
Click here for a list of articles in all issues of the magazine to date.
Save
Save
Save
Save