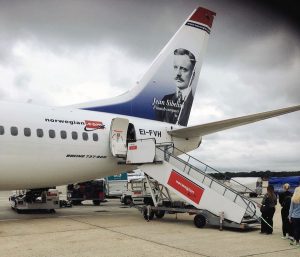 The airline Norwegian has added Jean Sibelius to its 'tail fin heroes' – major cultural figures who lend their identities to the airline's planes – to quote Norwegian, 'personalities who have pushed the boundaries, challenged the established and inspired others'.
The figures selected come from the worlds of art, architecture, literature, music, entertainment, philosopy, science and sport, or have been pioneers in other walks of life.
Sibelius joins figures such as the poet J.L. Runeberg and the writer and activist Minna Canth to represent Finland in the airline's 'hall of fame'.
Sibelius himself never flew in an aeroplane, but an interest in flight manifested itself in his lifelong love for migrating birds (The Swan of Tuonela, finale of the Fifth Symphony, etc.)
Norwegian flies to Helsinki from a wide range of destinations including London Gatwick, Amsterdam, Paris, Prague, Oslo, Copenhagen and Stockholm.
Click here to visit Norwegian's website
or
Click here to visit the 'Tail Fin Heroes' page
Save
Save
Save
Save
Save
Save