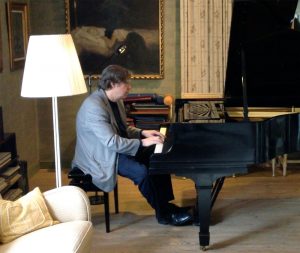 Folke Gräsbeck playing Sibelius's Steinway at Ainola (Photo: © Sibelius One)
The pianist Folke Gräsbeck has given a special Sibelius concert at Ainola for Peng Liyuan, wife of President Xi Jinping of China.
The performance took place on Wednesday 5 April 2017. On Sibelius's newly renovated Steinway piano, Folke Gräsbeck performed The Solitary Fir Tree, The Birch and The Spruce (from 'The Trees', Op. 75), The Columbine from Op. 85, Con passione and Finlandia. The rarity Con passione, JS 53 (1919), was selected because it was composed for the artist Oscar Parviainen, several of whose paintings are at Ainola.
The concert was organized at the instigation of Jenni Haukio, wife of President Sauli Niinistö of Finland, who knew of Peng Liyuan's great liking for the music of Sibelius.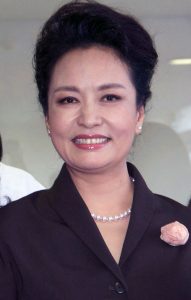 Peng Liyuan (photo: Creative Commons Attribution-Share Alike 2.0 Generic licence)
Born in Shandong, Peng Liyuan is head of the Chinese Song and Dance Ensemble in the General Political Department of the People's Liberation Army, and ranked first class in the civil service with the military rank of major general; she is the wife of the current Chinese leader Xi Jinping. The daughter of an opera singer, she gained popularity as a soprano from her regular appearances on the annual CCTV New Year's Gala, and has won many honours in singing competitions nationwide. She was the first in China to obtain a Master's degree in traditional ethnic music. Since 2011 she has also been World Health Organization Goodwill Ambassador for Tuberculosis and HIV/AIDS.
Save
Save
Save
Save
Save
Save