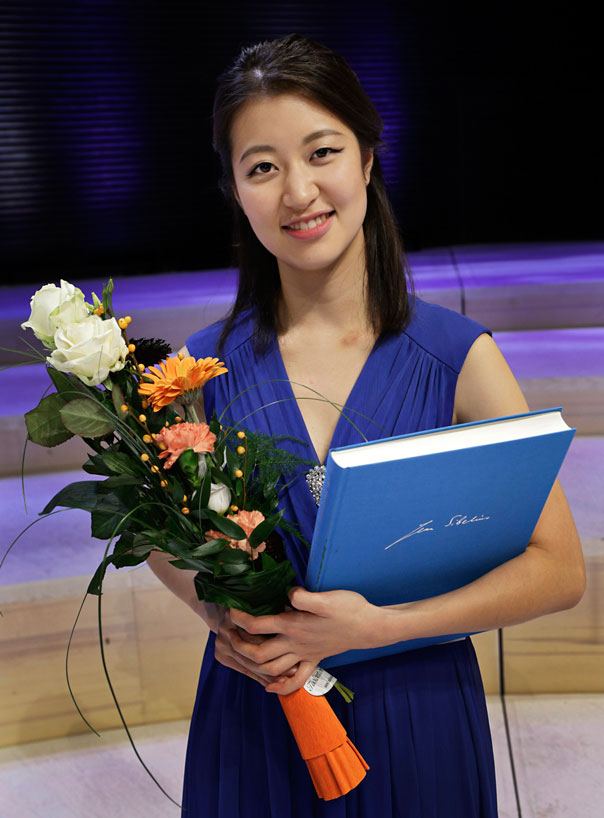 Christel Lee has won the 11th  International Jean Sibelius Violin Competition in Helsinki. The prize winners are:
1st prize €25 000  Christel Lee, USA
2nd prize €18 000  Emmanuel Tjeknavorian, Austria
3rd prize €12 000  Friederike Starkloff, Germany
Three other finalists, Mayumi Kanagawa (USA), Minami Yoshida (Japan) and Nancy Zhou (USA), received a prize of € 2000 each.
The Foundation of Helsinki Conservatory of Music awarded a special prize of €3000 to Emmanuel Tjeknavorian for the best interpretation of Sibelius Violin Concerto
The City of Järvenpää awarded a special prize of €2000  to Friederike Starkloff for the best interpretation of a commissioned piece in second round. The commissioned piece was one of the award-winning pieces from the Jean Sibelius Composition Competition 2015.
The best Finnish contestant Pekko Pulakka received the special prize from Yleisradio: an invitation to make a recording for Yle.
Christel Lee will perform at the following concerts in December:
with the Finnish Radio Symphony Orchestra, conductor Hannu Lintu, at the Jean Sibelius 150th Anniversary Concert in Hämeenlinna on 8th December.
with the Helsinki Philharmonic Orchestra, conductor John Storgårds, on 10th December in Birmingham and 12th December in Dublin.
Source: www.sibeliuscompetition.fi