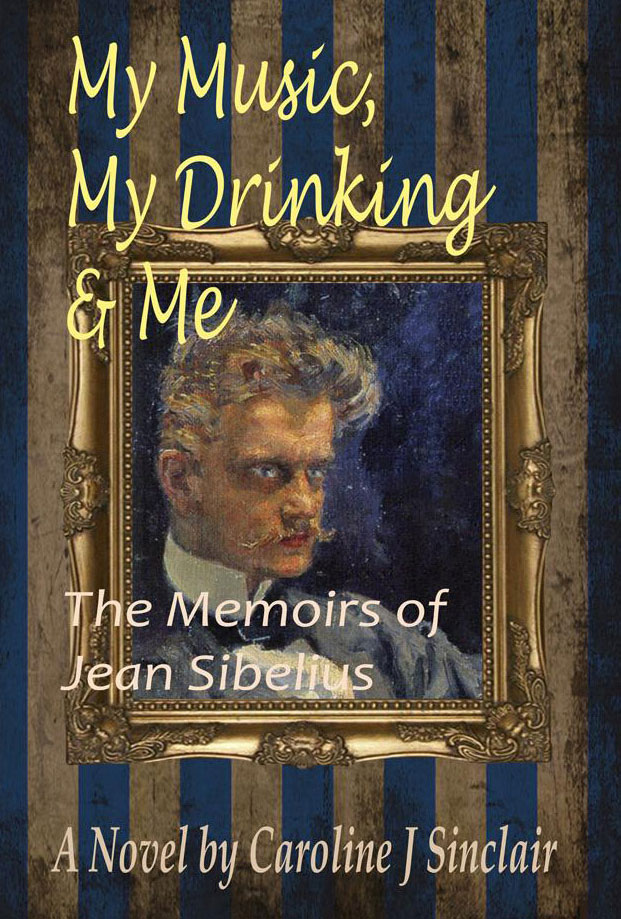 A new novel about Sibelius, My Music, My Drinking & Me –€" The Memoirs of Jean Sibelius by
Caroline J Sinclair, has been published as the second title in the 'Famous Composers
Series' from MAK Books.
Based on true events and told from Sibelius'€™s own point of view, My Music, My Drinking & Me – The Memoirs of Jean Sibelius depicts a turbulent and violent period in European history, when Finland is struggling to gain and maintain its independence. Sibelius is expected by many to be a spokesman for his country. However, he is uncomfortable with
the position thrust upon him; he has no desire to make political statements through his music, wanting only to depict the elemental forces of Finnish nature. On a more personal level, he is battling with  alcoholism; he believes that he needs alcohol to be able to write music, but does his drinking foster or hinder his creativity? Furthermore, if he does not give up drinking, it will cost him his marriage. Which is the stronger – his need to drink or his desire to save his marriage before it is too late?
My Music, My Drinking & Me is as much about a marriage as about music. In it, Caroline J Sinclair has drawn a vivid picture of Sibelius's family life, and of the country that inspired him to compose.
Caroline J Sinclair , a graduate in modern languages, is an Oxford-based author who has a keen interest in classical music. She has done extensive research into Sibelius'€™s life and music, including sourcing information from his letters and diaries, enabling her to keep the story historically authentic and factually correct. Furthermore, having once lived in Finland, she is familiar with the Finnish language, culture and customs. Her first novel
was on the life of Ludwig van Beethoven, and she is currently working on the third book in this series of famous composers'€™ memoirs.
Format: printed paperback (ISBN 978-0-9527804-4-1) and ebook (ISBN 978-0-9527804-3-4) (ebook at present Kindle only)
Publisher: MAK Books, Oxford
Publisher contact: Mary Green, enquiries@mak-books.com
Availability: all worldwide Amazon sites, plus independent retailers.
Amazon link: http://www.amazon.co.uk/My-Music-Drinking-MeSibelius/dp/0952780445/ref=sr_1_1?s=books&ie=UTF8&qid=1446829187&sr=1-1&keywords=caroline+j+sinclair
Source: MAK Books press release