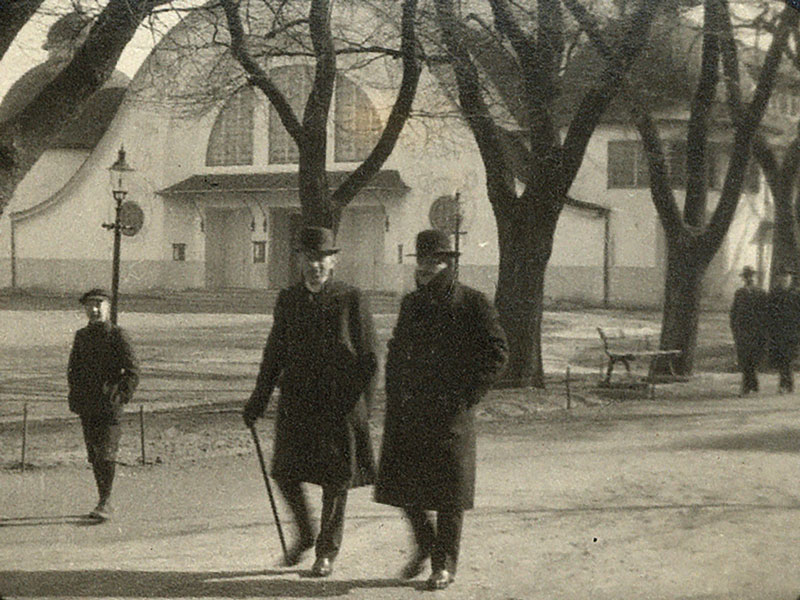 Stenhammar and Sibelius in front of the old Concert Hall in Gothenburg, Sweden.
© Wikipedia Creative Commons 3.0 / Göteborgs Symfoniker
'I regard myself as having genuine friends in Gothenburg. To have them perform my new works will always be a pleasure and an honour for me.' — Jean Sibelius
To mark Sibelius's 150th birthday the Gothenburg Symphony Orchestra will perform a complete cycle of his symphonies under it principal guest conductor, Kent Nagano, in the Gothenburg Concert Hall, Sweden. This will be the orchestra's first such cycle in its home city. It has previously performed cycles in 1996 in Birmingham and London.
Sibelius has long held a special place in the Gothenburg Symphony Orchestra's programmes, and the composer was a close friend of the orchestra's then chief conductor Wilhelm Stenhammar. The orchestra has performed the Second Symphony more than 150 times.
The concert series will begin on 29th November 2015 (6 pm) with a chamber concert by musicians from the orchestra, narrated by the actress Nina Zanjani. The programme will include music for violin and piano, string trio and quartet. The symphonies will be spread over three concerts on 2nd–4th December (each at 7.30 pm): Nos 3, 6 and 7 on 2nd December, Nos 1 and 5 on 3rd December and Nos 4 and 2 on 4th December.
Until 4th December there will also be a Sibelius exhibition in the Gothenburg Concert Hall.
The orchestra has also published a video of Sibelius's Valse triste arranged for six double basses and performed by Charles DeRamus:
Further information (in Swedish): click here.
or contact Stefan Nävermyr, tel. 0046 31-726 53 45 stefan@gso.se
Source: Göteborgs Symfoniker