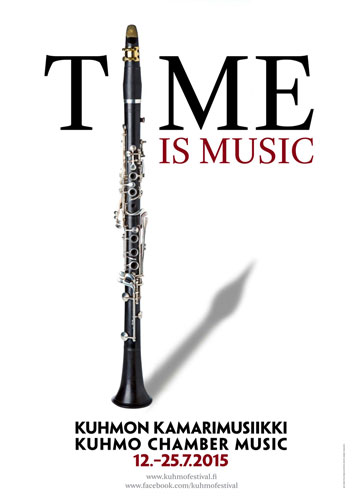 The theme for the 2015 Kuhmo Chamber Music Festival is time. The total of more than 70 concerts will address the turning points in centuries, the seasons, the eternal circle of transfer and many other time-related subjects. In keeping with the Kuhmo tradition, each day will include both chamber music classics and exciting discoveries.
The festival begins on Sunday 12th July 2015 with a Bach motet and ends on Saturday 25th July  with Piazzolla's Four Seasons. In between, there will be music from the 17th to the 21st century, with five to six concerts each day.
The performers are celebrated musicians and ensembles from Finland and all over the world. The Kuhmo Chamber Music concerts will be held at the modern Kuhmo Arts Centre hall with its excellent acoustics, the traditional Kontio School, Kuhmo's imposing Church, the intimate Burial Chapel and the Petola Visitor Centre. There will also be concerts at Vuokatti and in Iisalmi.
Works by Jean Sibelius to be performed at the Kuhmo Festival during his 150th anniversary year are:
Valse triste, Op. 44 No. 1 (in the composer's own piano arrangement)
Five Pieces, Op. 75, 'The Trees' for piano
Piano Trio in C major, 'Lovisa', JS 208
Pelléas et Mélisande, Suite, Op. 46
String Quartet in D minor, Op. 56, 'Voces intimae'
Kom nu hit, död! (Come Away, Death!), Op. 60/1 (arranged for voice, harp and strings by the composer)
Valse chevaleresque, Op. 96c (piano version)
Evige Eros, Op. 84 No. 4, for male  choir a cappella (performed by vocal quintet)
More information at the Festival's website.
Source: Kuhmo Festival Press Release, 9th January 2015