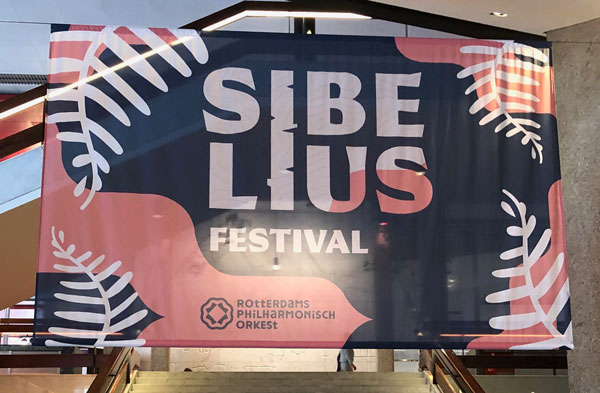 The Rotterdam Sibelius Festival, at which the Rotterdam Philharmonic Orchestra is conducted by Jukka-Pekka Saraste, will continue with four more concerts in November/December 2019 at De Doelen in Rotterdam. Also performing will be the star violinist Baiba Skride and Finland's world-famous YL Male Voice Choir under Pasi Hyökki.
The first four concerts, on 17 and 19 May, were a great success. A group of listeners from Sibelius One joined the audience at De Doelen to enjoy excellent performances of Sibelius's Symphonies 1, 3 and 4, Humoresques, Finlandia, songs (with orchestra and with piano), violin music and piano music – plus some Finnish folk music.

On Friday 29 November there will be two concerts:
17.00 Baiba Skride, violin; members of the Rotterdam Philharmonic Orchestra
Sibelius Malinconia; Piano Quintet; Andante festivo
20.15 Baiba Skride, violin; Rotterdam Philharmonic Orchestra / Jukka-Pekka Saraste
Sibelius Violin Concerto; Symphony No. 2
On Sunday 1 December there will be two more concerts:
14.15 Rotterdam Philharmonic Orchestra / Jukka-Pekka Saraste
Sibelius Symphonies Nos 5, 6 & 7
17.00 YL Male Voice Choir / Pasi Hyökki
Sibelius Choral Works
and Finnish folk music
Further details and tickets: click here
A group of Sibelius One members will be attending these concerts.